Merely the mention of slots or casinos will bring up images of Las Vegas for lots of people. And it's easy to understand why, as Vegas is home to the ultimate world of gaming. But that doesn't necessarily mean that you have to travel all the way there to enjoy it, not when online casinos can bring that magic to you, wherever you are. Whether you're playing on your mobile device or in front of the computer, you can enjoy Las Vegas by playing some classic slot games.
What is it about Vegas?
The fact that it's depicted in so many TV shows and movies has made Las Vegas synonymous with gambling. Okay, sometimes some dodgy characters are thrown in, too, but the less said about that the better. Let's focus on movies like The Hangover, or any others that have the 'what happens in Vegas, stays in Vegas' mantra. Though sometimes you don't want to keep the news to yourself, especially if it means you've been playing at a casino and have won big.
And when it comes to casinos, Vegas surely has the best. Iconic landmarks and famous games mean it's always popular with pundits. Though sometimes, not everyone can afford to fly out there, and sometimes people just don't want to. You might just want to stay at home and play slots while still experiencing what Vegas has to offer. Online casinos make this happen with a range of classic slots games like Jackpot 6000 that exude the Vegas experience.
The beauty of slots
In itself, a slot is a great casino game to enjoy. They come in many different shapes and sizes, with various reels, paylines and bonus features. There are even branded slots based on the latest hit TV show or blockbuster movie, so there's always something for everyone. And if you're after Vegas then there are classic slots that let you enjoy that, too. All the bells and whistles and diamonds; the glitz and glamour and background music – they all work together to create an ambient experience that's reminiscent of Vegas.
So you don't even have to leave your armchair. You don't need to sit on an uncomfortable stool. You can get comfy and play classic slots as if you were right in one of Vegas' casinos. The best online casinos will have a huge slots selection, from old-style games right up to the latest and greatest, to give you that Vegas buzz. But to really enjoy it, why not try some of the most popular slots that are still huge favorites. Here's a quick rundown of the very best.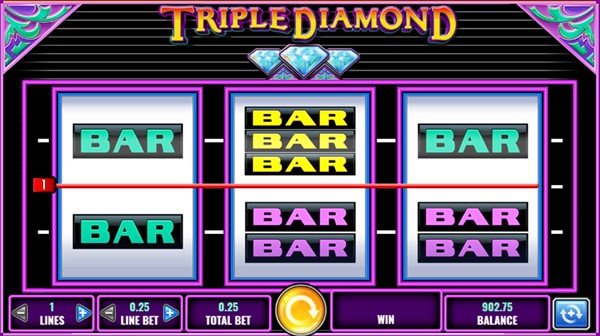 Mega Joker – With one of the highest RTP rates on the market at 99%, Mega Joker already attracts loads of players just because of that. It boasts a classic design and looks more like an old fruit machine than a slot. However, its simplicity is why it's so good. Played over three reels and five paylines, it has that classic look and feel, but with the potential to win up to $30,000.  It also means it doesn't have as many bonus features as a more modern slot but you don't really need that. Not when there's the Supermeter Mode, which can give you a mystery reward and pay out up to 2,000 coins, along with multiple wins on a line too. The gamble feature, common on many slots, also gives you the chance to double or quadruple your wins. That's more than enough.
Triple Diamond – Now, this is a slot that really has a classic feel. It can't even be described as retro as it does look its age. But that doesn't mean it doesn't play well. All the old-style slot symbols appear, such as Lucky Sevens, Bars and of course, Diamonds. It plays just as you'd expect and really hammers home the classic slots experience. It's just good old-fashioned fun. Oh, and it pays out multiplier wins too so expect generous payouts when you match those familiar symbols.
Cash Machine – Similar to Mega Joker, this slot looks like a classic slot machine, with full enclosure. Though this looks like you're actually in a Vegas slot hall with crisp graphics and jaunty background music. But you want more than just something that looks, sounds and plays well, you want the classic slots experience too. Which you get with the familiar fruit symbols on the reels, such as Cherries, Lemons and Sevens. Multipliers and generous jackpots up for grabs help make this slot even better.