LeoVegas Casino is an online gambling outfit that is based in Stockholm. It was established in 2011 by Gustaf Hagman and Robin Ramm-Ericson, who now serve as the Group CEO and Chairman of the Board respectively.
The motivation behind establishing an online gaming outlet was the technology trends that they could foresee. Both saw the growth in smartphone ownership at the time and boldly predicted that this trend would continue until smartphones became ubiquitous. It was this foresight that led them to team up with each other to establish an online gaming platform to take advantage of this coming trend. Obviously, they have been handsomely rewarded for their risk-taking. LeoVegas is now one of the top gaming platforms in the European Union.
LeoVegas went online in 2012 and has since been recognized for being on the cutting edge of the industry in terms of their business growth and creativity. As of writing this, LeoVegas boasts over 900 employees that are experts in their field and help make LeoVegas the lean operation it is today.
In recent years, LeoVegas have made inroads into the continental European market through the acquisition of a gaming platform in Italy as well as gaming licenses in several countries such as Germany and Denmark.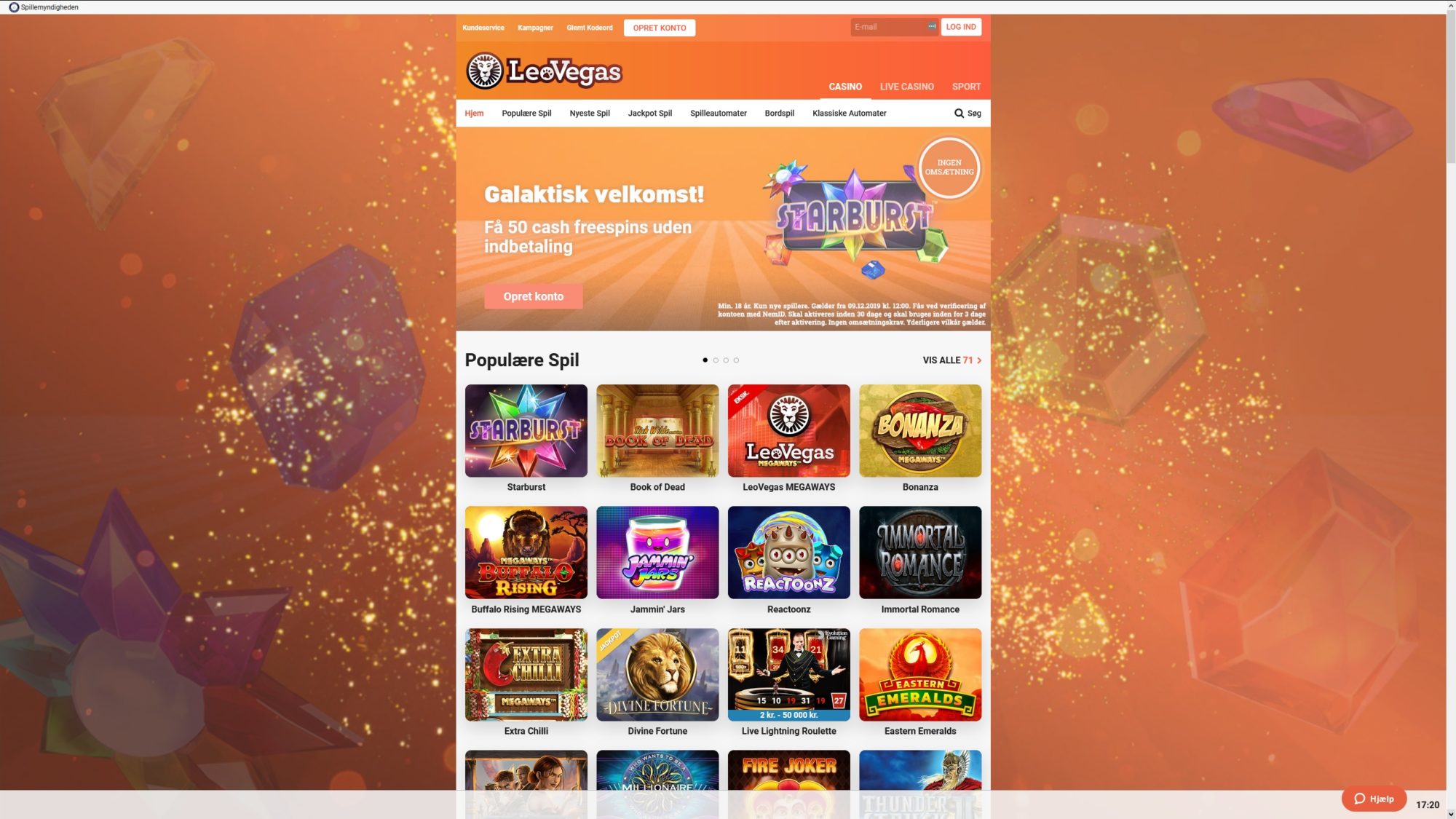 Promotions
When it comes to offers, LeoVegas is very keen on giving their customers the best chances in the industry. Gamers are able to take advantage of a variety of promotions and bonuses at just about any given time. This provides gamers with superior value and contributes to LeoVegas' growth in market share.
Welcome Bonus
LeoVegas offers new gamers a very generous welcome bonus package. For example, continental users can receive up to 400 Euros if they meet the wager requirements of LeoVegas.
If you registered an account with LeoVegas after the 25th of October in 2019, you could potentially qualify to receive a nice welcome bonus from LeoVegas. The welcome bonus will differ from country to country based on the value of the local currency, but as long as you meet the few conditions, it will be pretty worth the effort.
Each type of game on the site will contribute differently to the wagering requirements. So, it is recommended that you study the condition details properly before planning out your gaming schedule if you wish to take advantage of this welcome bonus.
Accumulator Profit Booster
One of LeoVegas' specialties is that they offer gamers a very generous accumulator profit booster. This allows seasoned gamers to win up to 65% more in winnings when they place themselves on an accumulator.
All gamers need to do is place three or more bets on a set of gaming selections in order to qualify for the accumulator. How great the extra winnings are will depend on the odds of the wager. If the odds are three-fold, gamers will be looking at a 10% winnings boost. This goes up to seven-folds odds which is what can bank gamers the 65% in extra winnings.
Weekly Rewards and Winnings Boosts
LeoVegas offers gamers a dozen different weekly rewards to make their gaming experience even richer. LeoVegas allows their gamers to head to their offers page in order to claim their reward. For every five qualified bets that gamers make, they will either be rewarded with a free bet of a certain amount or a percentage profit boost. The greater the number of qualified bets made, the greater the reward will be.
For example, gamers will receive a 50% winnings boost if they make 50 qualified bets during the week in question. This is one of the ways LeoVegas shows their appreciation to their loyal customers.
Free Spins
LeoVegas offers new fans 20 free spins on their "Book of Dead" game. All gamers need to do is to register with LeoVegas. When they are registering, they simply choose the Casino Bonus Offer during the registration process. Once that is all done, LeoVegas automatically credits their account with the 20 free spins.
Gamers can claim these 20 free spins 14 days after registration simply by going to the promotions section of the site. Once claimed, they have a full seven days to use their free spins.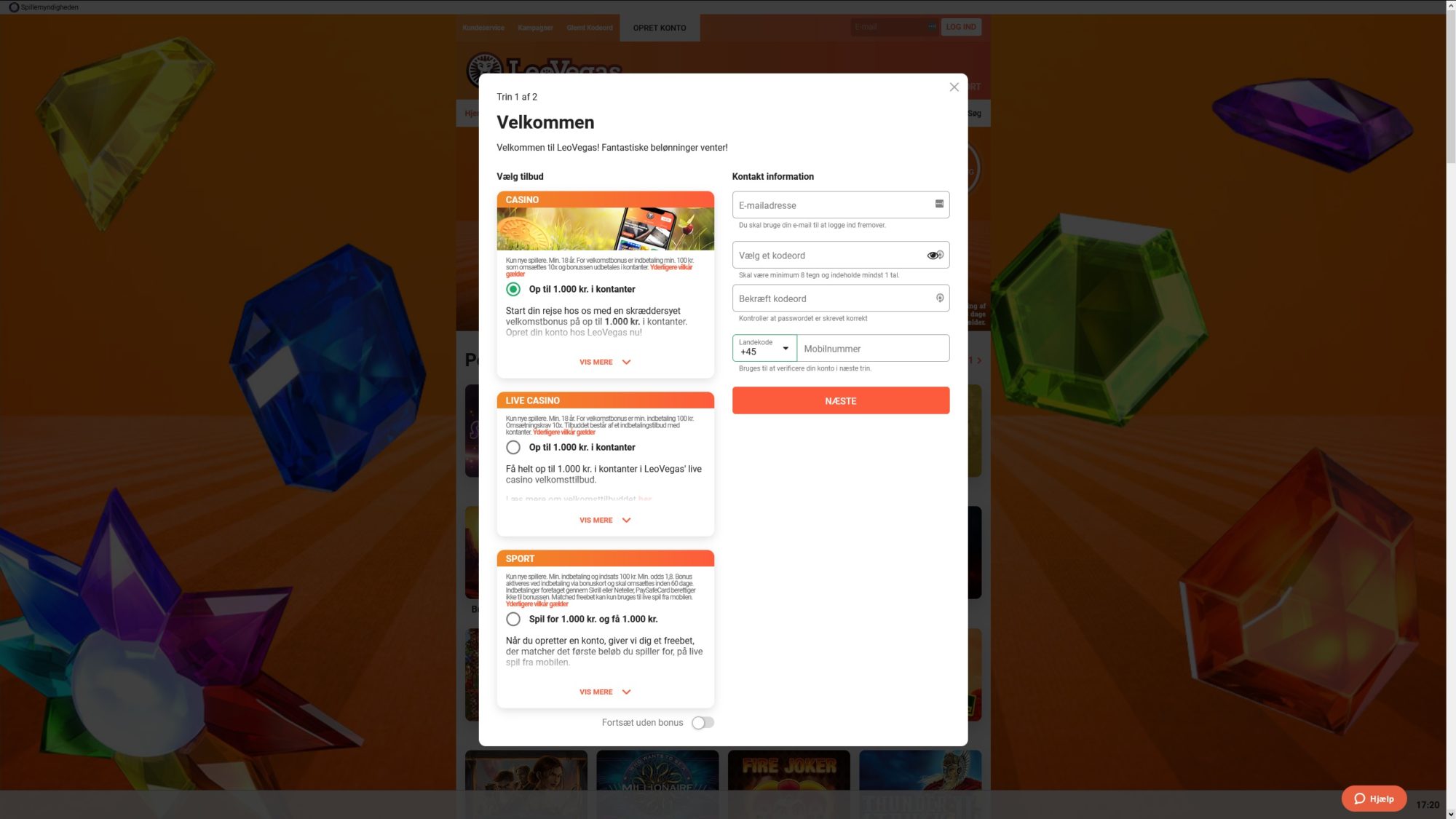 Registration Process
Registering an account with LeoVegas is one of the easiest things to do on the internet. LeoVegas is committed to providing gamers with superior value. One of the ways they provide superior value is to make signing up with them as easy as possible.
Gamers can begin the registration process by clicking on the "Open Account" option that should be right on top of the LeoVegas logo. From there, gamers will be taken through three simple steps bit by bit to open their account.
As with everything else, there will be a set of terms and conditions that cover the legal basics. Gamers are advised to read through this just as a precaution and to understand the nature of the gaming arrangement that LeoVegas is offering. The main reason for the terms and conditions is simply for LeoVegas to avoid frivolous lawsuits.
Once this is all done, LeoVegas will send a verification code to the gamer's phone or email address to be keyed in for the final step. This is in order to make sure that it is indeed the person who is signing up and not a hacker. Once that is completed, gamers are free to start browsing the site for their favorite bets.
Software Suppliers
LeoVegas prides itself for relying on multiple software providers. The main driver behind this is to make their operations less at risk of being derailed by cyber-attacks. This also allows gamers to enjoy an even greater variety of gaming selections, which further adds to their experience.
Cryptologic, Yggdrasil, Play'n Go, and Quickspin are just some of the software providers that supply LeoVegas with their gaming selection. While some people might think about playing these games individually to bypass LeoVegas, there is a massive benefit that they fail to factor in.
When gamers sign up with LeoVegas, they will be able to play all the games in their selection without having to download their prerequisite software. The convenience of this platform cannot be overemphasized.
Game Selection
LeoVegas has one of the widest selections of gaming options anywhere on the internet or in real life. Being online allows LeoVegas to offer gamers betting options without being subject to physical restraints. Without having to worry about not having enough floor space to put their tables or machines, LeoVegas is able to offer as many games as they can find.
Slots
LeoVegas has literally hundreds of slot games that gamers can sample. From Book of Gold to Fat Rabbit and everything else in between, LeoVegas has a slot game selection that is truly world-class. Some of these games offer jackpots that are worth a try at.
For example, as of writing this, the headline jackpot for Reel Heist was well over 100,000 Euros. Jackpots like this are what encourage gamers to come back for more. It also provides the superior value that has enabled LeoVegas to stay on top of the online gaming industry.
Poker
One of the key features of the poker selections at LeoVegas is the sheer range of betting amounts that they will accept. Bets can start as low as a single Euro. Some poker games allow for even half that amount. Gamers can go as high as 1,000 Euros on all poker games on LeoVegas.
Three Card Poker takes the cake with regards to wager amounts, allowing gamers to put as much as 5,000 Euros down on a single bet.  This adds to the excitement that is the whole point of placing wagers.
Table Games
The number of table games LeoVegas has will delight even the most seasoned gamer. Not only are the range of table games ridiculously vast, but LeoVegas even has different varieties of the same game.
For example, LeoVegas has every different style of Roulette imaginable. Russian, European, and American roulette are all available, along with Roulette with different odds scales. This is definitely something that LeoVegas can be proud of and gamers can enjoy.
With four dozen table games at the writing of this article, LeoVegas has something for all tastes and preferences. This is in line with their commitment to providing an optimal gaming experience for as many people as humanly possible.
Live Casino
LeoVegas has over forty live casino options as of writing this. Some of these games will be made available in select countries simply because of the different legal systems that each country has. Some games are selectively offered because they are in a local language and meant for that specific market.
For example, there are several blackjack and roulette games that are offered only in Italy. This is because it is conducted in Italian and it would be cumbersome from a legal perspective to get the game licensed in markets that would not play it enough. And it isn't just blackjack and roulette that is being offered to gamers. Many live game shows are also made available for gamers who have a taste for that style of wagering. Most of the popular game shows are made available for gamers to sample and enjoy.
For example, the famous game show Deal or No Deal is available for taking chances with. Gamers no longer have to wait for the television show. Moreover, gamers can place their own bets on the outcome, something that was not possible with the original television show that was legal. And for those who wish to relive their younger years, there is a live MONOPOLY game that they can look into.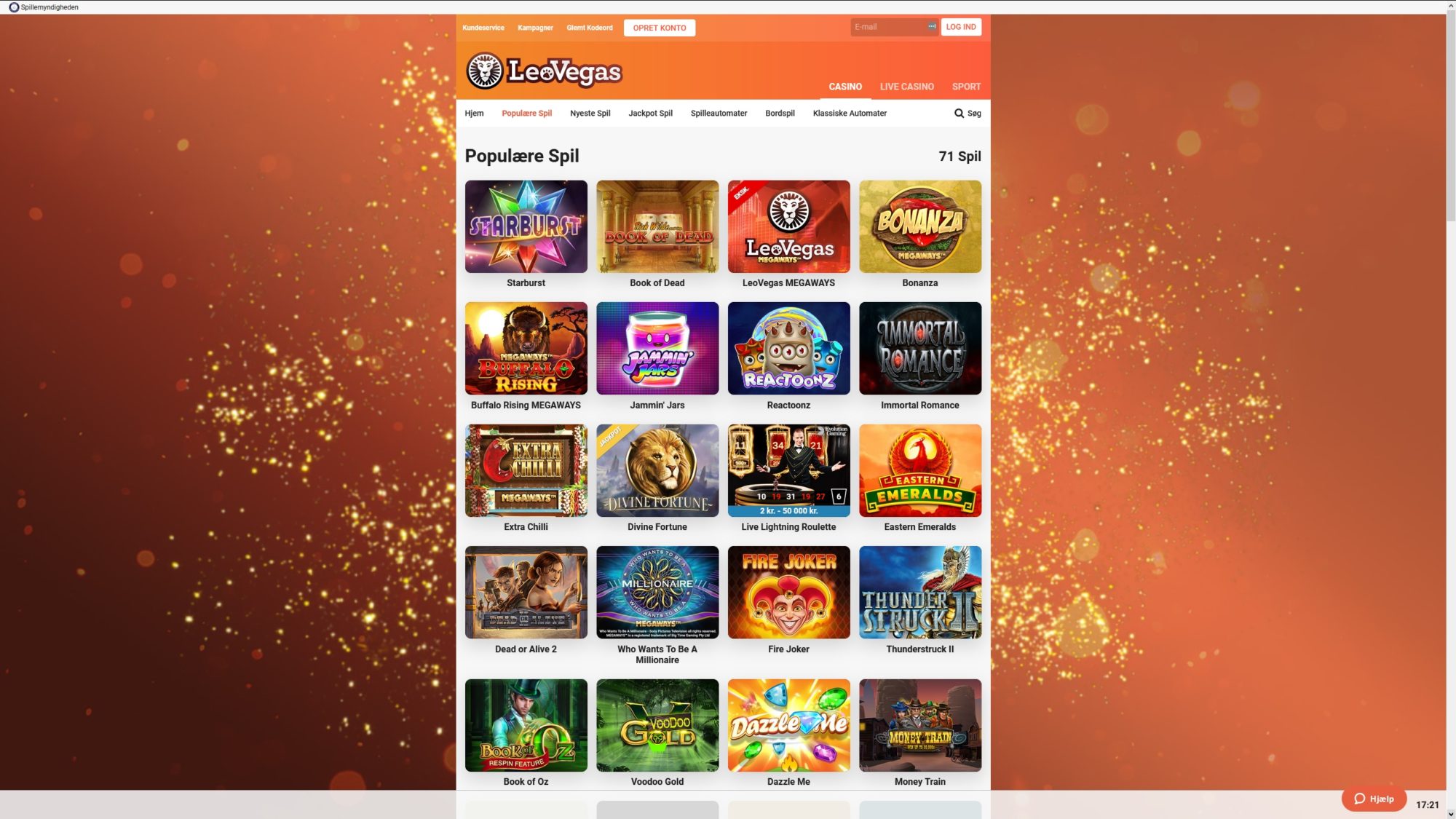 Deposits and Withdrawals
In the spirit of protection, each gamer registered with LeoVegas will have their individual account. The funds in that account will remain segregated from the business account of LeoVegas. This means that there is no risk for gamer funds to be misappropriated.
Once an account is registered, gamers can deposit funds into it by way of wire transfers or debit card. Credit card services are usually prohibited by local regulations. The amount in the account can then be demarcated for wagers of any sort on the site. When a wager is placed, the amount wagered is then taken out and assigned to the bet. The amount that is "Available to Bet" is the balance that is left.
For withdrawals, there will be an "Available to Withdraw" amount that can be withdrawn as long as the proper notice is given to LeoVegas. Any withdrawal exceeding 3,000 Euros or the local currency equivalent will be subject to verification to ensure gamer safety. If gamers wish to make a full withdrawal, there cannot be any outstanding wagers in play. There will usually be a 5 working-day processing period to fulfill this request and cannot be done by phone or email.
Customer Service
In line with delivering superior value to their customers, LeoVegas provides top notch customer service. There are many channels that have been setup for customers to reach them. LeoVegas takes into account the different circumstances their customers might be in and tailored their customer service system to fit that.
What makes this customer service system user-friendly is that convenience by which it can be accessed. All the different channels are simply and neatly laid out on the customer service page and can be used with ease.
The first customers will see is the help center. The help center has a list of frequently asked questions with well-thought out answers to each and every one of them. In the help center page, there will be the top few questions individually displayed along with their answers. Below that, there are nine different categories of frequently asked questions, each with their whole list of questions and answers.
Most customers will be able to solve their queries with this alone. This cuts down on the time they would have had to spend fashioning their question and waiting for a reply.
But of the question is very specific or more challenging, customers can always give LeoVegas a call or send an email. This would be for very specific and unusual circumstances that would require more hands-on attention from the customer service staff. LeoVegas even has an international number that can be reached at any time of day regardless of where the customer may be.
VIP Offering
The VIP experience of LeoVegas is as amazing as it is exclusive. There is a qualification process where every amount wagered will contribute to the gamers' progress towards qualifying for VIP status. Many have said that the journey makes the reward even more worthwhile.
There will even be a progress bar to show gamers how far they have left to qualifying as a VIP. But the fun does not stop there. There are seven different tiers of VIP, again based on how much has been cumulatively wagered. Each month, there will be a lucky draw for each of the VIP tiers, with each tier in the running for ever more expensive prizes. The winner of the lucky draw will be awarded the prize of the month and have their name announced on the site.
One of the best parts of the VIP tier system is that gamers do not need to sign up for it. Gamers will have their progress automatically calculated and tracked the moment they start placing bets with LeoVegas. This takes away any risk of unfair treatment.
Gamers might not have known about this system until they have placed several large wagers. Fortunately, they do not need to be worried about being stealthily cheated on any rewards that they might qualify for. This is part of LeoVegas' efforts to provide all gamers on their platform with a great and fair experience so that they feel valued as customers.
Mobile Gaming
Many gamers have the usual concern of the availability of LeoVegas with regards to mobile gaming. This is very understandable as many applications do not transfer well from PC to mobile devices. Some applications either use too much memory or too much data to be practically used on mobile devices. Some were even designed without thinking of being made compatible with mobile devices.
But as mentioned in the beginning, if LeoVegas had a constitution, being mobile-friendly would be the very first article. LeoVegas has gone to great lengths to ensure that their gaming experience does not suffer when being displayed on mobile devices.
All gamers will need to do is to download the LeoVegas app on their mobile devices. It is available both for Android and Apple operating systems. The Android version of the app might take a couple steps more than the Apple version to download, but both are very simple and straightforward to get through.
Conclusion
All in all, LeoVegas is definitely an online gaming platform built for the present day as well as the future. Even its founding was based on future technological trends. LeoVegas constantly seeks to reinvent itself in order to stay competitive in the industry and relevant in today's ever-changing world.
LeoVegas combines the nostalgia of games that have been played for centuries and modern technology to deliver an experience that is more enjoyable than if those two forces were utilized separately.
Because of all this and more, we can recommend LeoVegas to anyone interested in placing wagers. LeoVegas does everything they can to accommodate any budget, tastes, as well as type of device. This is a gaming platform that truly is second-to-none.