Phil Laak is a renowned figure in the world of poker games. He has been involved in some very high stake games and has made a fortune for himself. Phil Laak Net worth is worth talking about because he has made it big in the industry. Becoming a great poker player requires continuous learning and learning from professionals who have made it in the industry. Are you a poker player dreaming of making fame in the industry? Do you want to make a fortune while playing at poker tables? Are you interested in learning the strategy of the game from professionals? Then you are on the right page!
Here, we look at one of the big shots in poker industry by the name Phil Laak. We explore his early life, his career as a poker player, his personal life, and of course, Phil Laak Net Worth. Read on to know more about this poker legend.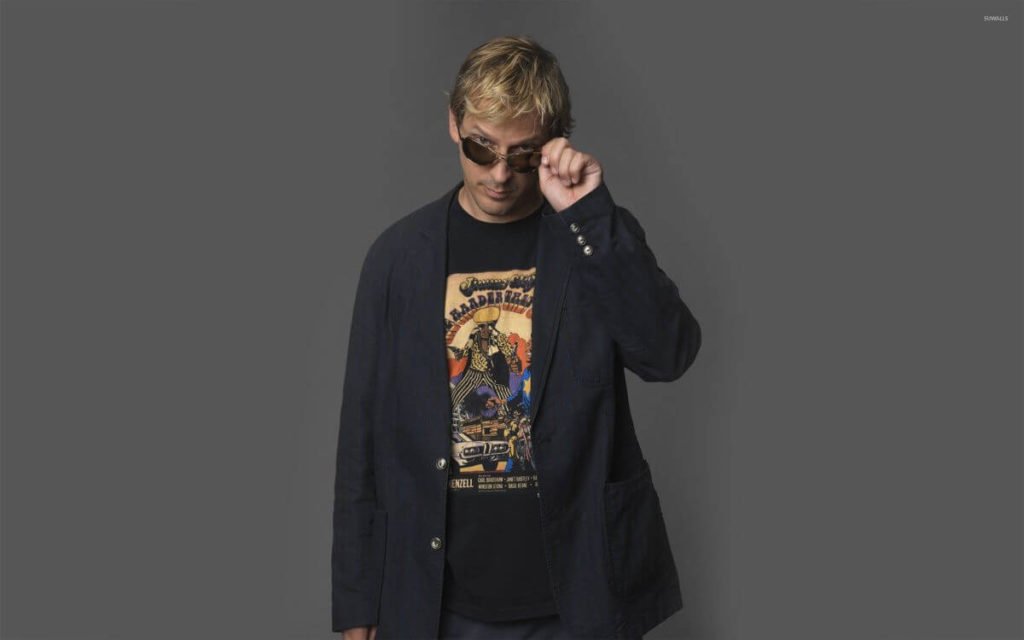 Early Life of Phil Laak
Philip Courtney Laak, simply refer to as Phil Laak, is an Irish professional poker player known for his game escapades and various television shows. In addition to being a professional poker player, he is also a poker commentator. Born in Dublin Ireland, Laak was brought up on the East Coast of the U.S.A and currently resides in Las Vegas and Los Angeles, California. He graduated in 1990 with a degree in mechanical engineering from the University of Massachusetts, Amherst.
After his graduation, he took up a couple of jobs to make ends meet before beginning his poker career in California. Jobs he did before moving on to become a professional poker player include day trading, dishwashing, repossessing cars, and gardening. He was once a roommate of Antonio Esfandiari, a fellow professional poker player. Before he relocated to the west, he stayed in the New York City for many years and it was during this period he started preparing his skills and expertise as a backgammon player. He later went ahead to shift his full attention to poker games.
Laak has won the World Poker Tour tile as well as a World Series of Poker bracelet in the course of his professional career. He is also a known face in the entertainment world as he has appeared on various nationally aired TV series over the years. Currently, Phil Laak net worth is estimated to be around $20 million USD. He has been able to attain this value due to his hard work as a professional poker player and doing every other thing in-between. Laak is known for his trademark dark shades and gray hooded sweatshirt which he wears at practically every table.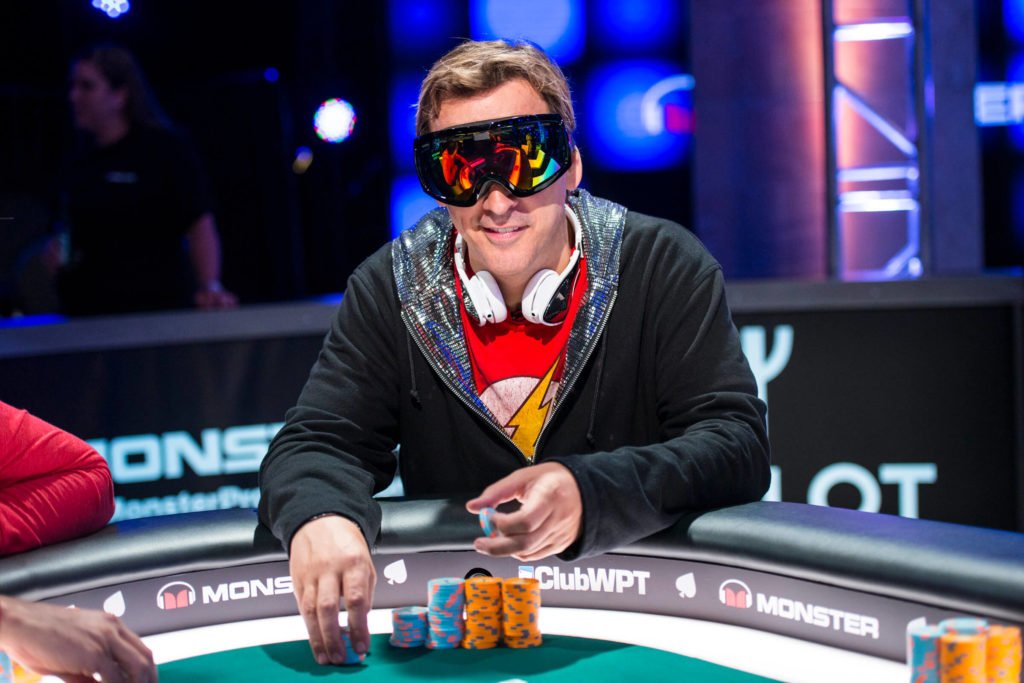 Phil Laak Poker Career
Phil learnt how to play poker early in life. He has played at a couple of games before he finally launched his poker career fully in 1999. The first poker game that began the growth of Phil Laak net worth was cash game was in 1999. He has earned WPT (World Poker Tour) titles and WSOP (World Series of Poker) game cashes. Over time, his winnings have secured him a top position among top poker players in the world. He is famous for his winning moves, sharp intellect, and antics at the felt table and these have endeared him to his large fan base.
Laak's first major tournament winning was at the 2004 WPT (World Poker Tour) Celebrity Invitational that took place in February of that year. Since then, he has made it to two other World Poker Tour final tables, taking the sixth position during the Battle of Champions season two, and Five Diamond World Poker Classic in 2005. During the World Series of Poker of 2005, he finished in second place to Johnny Chan during the $2,500 Pot Limit Hold' Em event. He defeated another professional poker player, Ram Vaswani, and won the inaugural William Hill Poker Grand Prix.
At the end of this game, Laak took home the first prize which was a total of £150,000. He has also taken part in the various Poker Royale series competitions. During the High Stakes Poker of GNS, Laak made appearance on the season two all through to the season six of the show. He also served as a dealer at the short television series, E! Hollywood Hold'Em. He was a winner of the Poker After Dark where he won a total of $120,000 during the Nicknames episode. He defeated Mike Matusow, Erick Lindgren, Annette Obrestad, Phil Hellmuth, and Antonio Esfandiari. The event was organized and packaged by NBC.
During the Association for the Advancement of Artificial Intelligence conference in 2007, Laak and Ali Eslami, a fellow professional player, competed and won against Polaris in Vancouver, British Columbia. Polaris is computer game software that was created at the University of Alberta. In the course of the game, two of the four rounds were won by Laak and Eslami, while the remaining two rounds were a draw and a loss. In the year 2008, Phil Laak made an appearance at the Knight Rider television movie. He was conferred the name of Poker Pro at this event.
In 2015, Laak started writing a monthly column which he called 'Being Phil Laak' in Bluff Magazine. Unfortunately, the lifespan of the poker themed magazine was very short as it folded up in the same year. He also co-hosted a TV show on the MOJO network with his fellow poker player and friend, Antonio Esfandiari. The name of the TV show was 'I Bet You'. The show involved the poker players betting on practically anything. In 2009, Phil Laak also played in Aussie Millions cash game, which was Invitational.
In the year 2009, Phil was recognized as the PartyPoker.com World Open V Champion with a winning of $250,000. He won at the final table where he was paired with his long term partner, poker pro and actress Jennifer Tilly, and Luke Schwarts. In September of 2010, Laak made history for himself when he won his first ever World Series of Poker bracelet by winning at the ₤2,500 Buy-In Six Handed No Limit Hold' Em championship during the World Series of Poker Europe 2010. This winning came not long after his accident which involved an all-terrain vehicle. He had this accident in August and had a broken elbow and other injuries in the process. As at 2018, Phil Laak Net worth has increased with his total live tournament winning which was more than $3,650,000 in total.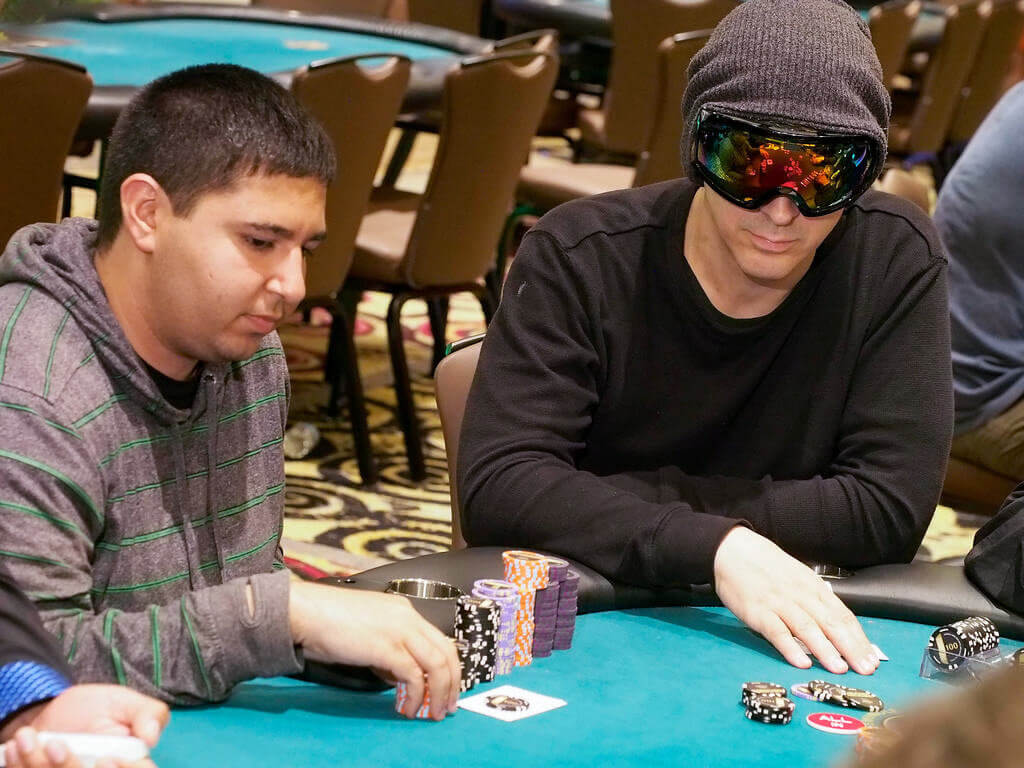 Personality of Phil Laak
Over the years, Phil became popularly known as the 'Unabomber' in the poker scene due to his signature outfit of hooded sweatshirt and sunglasses. He is known for wearing this ensemble at poker tables which makes him look like the forensic sketch of famous Theodor Kaczynski, who was popularly referred to as Unabomber. This name was given to him by Gus Hansen, a fellow professional poker player.
One other thing that Laak was very popular for is his remarkable and creative way of speaking. He was the player that came up with the poker terms 'felted' which refers to a situation where a player loses all his chips. In other words, nothing is left in front of the poker player, only the table felt. He also coined the word 'upstuck' which means a situation where a player is brought down from his high point of a session. For instance, when a player wins a total of $15,000 and loses $10,000 afterwards. He also came up with the term 'Pay Off Wizard' (POW) which is usually used in a self-mocking manner. The phrase refers to someone who pays off a big bet on the river. Another of his coinages is 'Cherry Bomb' which means huge, ultimately unproductive wagers.
Phil Laak is currently in a relation with the actress, Jennifer Tilly, who won the World Series of Poker bracelet in the year 2005 during the $1,000 buy-in Ladies No Limit Texas Hold' Em championship. During the 2008 World Series of Poker, Phil played at the Main Event on the first day in a disguise wearing a costume, latex mask, make up, and a wig. His disguise was mentioned after the event by an AP reporter, Oskar Garcia. During the World Series of Poker of 2009, a new rule was added which prohibited the wearing of masks at a poker table.
Laak made another history at the Bellagio, Las Vegas in June of 2010. He set the world record of the player that spent the longest time playing poker game in one single session. He played at the table for 115 hours non-stop. It is essential to mention that the initial record was set in 2004 at the Foxwoods Resort Casino by Larry Olmsted when he played for a period of 72 hours and 2 minutes non-stop at a table. It is important to mention that Guinness permits a single five minutes break every one hour which allows the player to do whatever they wanted. He banked many breaks in order to take a thirty minute nap, which was allowed. Interestingly, he did not take caffeine or any other stimulants all through the course of the 115 hours of the game.
He played the $10-$20 No Limit Hold' Em with uncapped buy-ins. Phil finished the $6,766 and contributed half of his total winnings to a charity organization. The name of the organization he donated to is Camp Sunshine, a not for profit organization that gives sick children the opportunity to enjoy summer camp. His game was streamed through an online video and was witnessed by more than 130,000.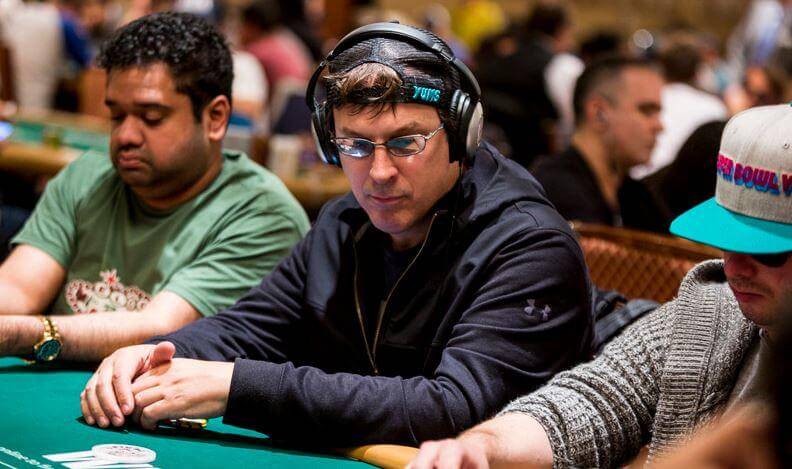 Net Worth of Phil Laak
Phil Laak has amassed great wealth for himself as a successful professional poker player. As at 2018, his total winnings from tournaments have been placed at over $3.6 million. He had also made various earnings through hosting various TV shows related to poker games, and through invitational tournaments. Currently, Phil Laak net worth is placed around $20 million.
Private Life of Phil Laak
Phil leads a quiet life with not much of uproar surrounding his personal life and career. Many of his close associates are of the opinion that he is an honest and very open person and he is always ready to talk about his passion and ambitions about poker games. Laak is indeed a likeable person and someone of a commendable character. There is no doubting the fact that he is ambitious about his career as a poker player.
Interestingly, it is easy for him to attain his set goals because he loves what he is doing. As far as he is concerned, he is making money while doing what he loves the most. Phil Laak net worth really reflects his passion for what he does. He is one of the few players that an opponent cannot afford to underestimate; he is intelligent, shrewd, and charming to the core. So if his skills do not make you falter, his charm definitely will.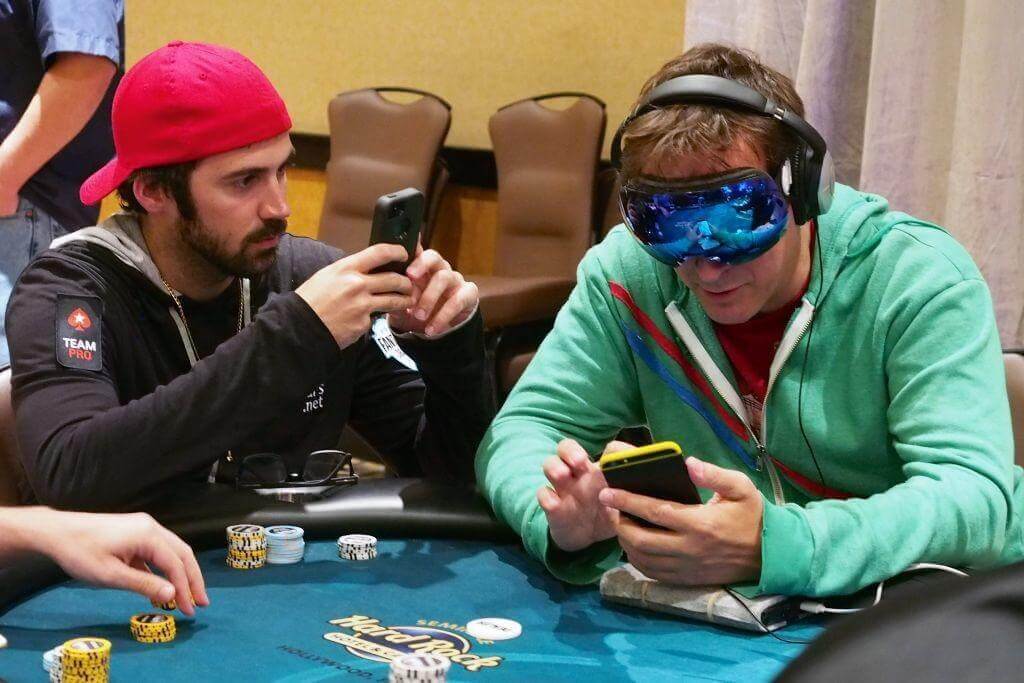 Has Phil Laak ever been Broke?
There have been many upcoming poker players who wonder if it is possible for professional poker players to be broke at any point in time, giving attention to how much they earn at games and what their net worth is. For instance, Phil Laak net worth has been said to be over $20 million, so with such net worth, is it really possible for him to be broke?
Well, Phil Laak has been broke before but he vowed never to go back to that stage in his life with resolve, discipline, and determination. According to him, he went broke just once in his life and that once is enough for him. Laak mentioned going into a trade with the NYSE and things didn't turn out the way he anticipated. As a matter of fact, it was worse than he anticipated. He mentioned that this massive financial blow really taught him three distinctive things: The true value of personal discipline; the true definition of the Kelly criterion; and what can happen when someone is on the wrong side of the squeeze play. These three has helped him device his gaming strategy and which has helped him all along.
Phil Laak Poker Strategy
Squeeze Play: This is when the market makers (floor traders) unexpectedly 'squeeze' you out of your anticipated profits from the position that you have established over time. Here, the options are zero-sum game and if you are going to earn a large profit, your opponent will definitely notice this. The opponent therefore proceeds to defend against future loss by manipulating the stock price in order to render your option worthless at expiration. This is the same with poker game which means you have to be on your guard always to counter anything that want to disrupt your gaming plan.
The Kelly Criterion: This is a formula that is used in determining an optimized betting size, given the size of your bankroll and the anticipated return on the bet. According to Laak, he gets confounded when supposedly successful poker players talk about going broke many times. He believes that almost all professional poker players know all about bankroll management and a good number of them have a good idea of what it means to engage in bankroll-appropriate poker games. What this means is that the understanding of bankroll management is not the reason why players go broke. The main reason why they go broke is simply because they do not have the required discipline to follow through with the management.
Discipline: Almost all players know about the importance of discipline when it comes to gambling. As a matter of fact, a lot of people think about it and talk about it. However, only a few utilize it. According to Laak, being discipline is an opportunity to be ahead of others in the game of poker. He believes that if you are fortunate to get very lucky in your early gambling career, there is a high tendency to hit the DDT (Discipline Defect Trifecta) stage. DDT is a situation when an immense lack of discipline leads to a major loss that makes you experience a transformation to make you never to slip again.
Discipline Defect Trifecta is usually the same for everyone with just a single difference which the fact that it is unintentional. Most times, you don't know you have the issue until your lack of discipline causes you a huge damage or loss that if you ever come out of the situation alive, you become a different person with an intense understanding of the importance of bankroll management in poker game. The fact is that after coming through once, you will never get into that stage again.
The Highlights of Discipline Defect Trifecta
The first stage is to go broke which is as a result of defective discipline. The next stage is to imbibe the Kelly criterion which revolves around betting discipline. At this stage, you are wiser and you gamble with caution because you understand that if you don't apply the rule of bankroll management, you can lose everything in a matter of seconds. This is the last stage; the unfailing discipline.
As a poker player or a gamble of any kind, you will go broke at some point. It might not be huge and obvious to everyone; but a time will come when you go broke. At this stage, there is no need to despair. All you have to do is emerge from the ordeal and be determined never to get back in that situation again.
How Phil Laak became Broke
Phil confessed to have gone through the DDT stage somewhere along his career. According to him, he was not an idiot but a 'gambling fool'. He had been very successful using his money in the stock market; turning his $10,000 into about $80,000 in roughly two years. According to him, the bankroll was more than the $80,000 because he was practically living off his earnings but within the two years' period, he had this much as his bankroll.
At this period, he moved closely to Kris, his very good friend. Kris was a young and smart market guru, who was very shrewd when it came to betting. Laak believed Kris was pretty better than he was on many levels; he never bet more than 5% of his bankroll in a single play and when he shares his trading ideas, they were pretty better than his which made him a somewhat better gambler.
Based on good information, Kris resolved to bet 25% of his payroll on a single play. Thinking that Kris must have good reasons to have gone this far on a single game, Laak felt he could do something more outrageous to become a millionaire over a period of two months. Up to this point, Laak had of course made some bigger than normal bets but nothing really out of the world. In the mode of thinking very big, he decided to go for the long haul. Phil went ahead to bet his whole bankroll of $80,000; that was all Phil Laak net worth at this time.
At this stage, he was looking forward to become a millionaire within the next two months. He admitted knowing that putting his whole money into a single bet is a dumb thing to do but he did it all the same. He believed he was deceived by his overconfidence in the judgment of Kris because previous play that Kris had shown interest in always turned out profitable. After placing his bet, he decided to travel and have fun in anticipation of his win; so he traveled for the backgammon tournament that took place in Brazil. Unfortunately, when he returned to the United States, he discovered that not only was he not a millionaire but he was also dead broke because he lost everything. He wallowed in his misery for a while but returned to the games and started playing. Phil Laak said from this point on, he learnt his lesson on the importance of bankroll management and he is sure never to find himself in a broke state ever again.
Phil Laak's Top 5 Tournament Cashes
Since he rebounded from his unfortunate loss of his whole bankroll in 2009, Phil Laak net worth has gradually increased over time. He went from having nothing to having over $20 million USD net worth within nine years. From 2009 and 2011, Phil had made some great cashes during tournaments events.
During the PartyPoker.com World Open V Final of 2009, Phil took the first place position and won a total of $250,000.

At the World Series of Poker of 2010, he played at the £2,500 + 100 No Limit Hold' Em Six Handed game and he won the first place with a winning of $263,49.
In 2012, he participated at the 2012 PartyPoker.com Premier League V No Limit Hold' Em and won at the third place with a winning of $175,000.
2013 World Series of Poker also brought in some winnings for Phil as he participated in the $111,111 No Limit Hold' Em – One Drop High Roller Event number 47. He finished in the 19th

place and won $173,723.

In 2011, he also took part in the World Series of Poker where he played in the £10,000 No Limit Hold' Em Six Handed Championship. He finished in the 4th

place and won $133,377.
In addition to this, he also participated in the $2,500 Pot Limit Hold' Em of 2005 World Series of Poker. He finished in second place to Johnny Chan. He won against Ram Vaswani to get the 1st position title of William Hill Poker Grand Prix. He walked away with a whopping £150,000 first prize at the end of the game. Laak has made various appearances at Poker Royale series, including Season Two all through to Season Six of the GNS's High Stakes Poker. He was also a dealer on the short-lived E! Hollywood Hold' Em Television Series. No doubt, Phil Laak net worth greatly reflects the fact that he has been in the industry for a while and he has already attained a significant height in the industry.
Conclusion
Although he is not the biggest earner among professional poker players within the circuit, Phil can indeed lay claim to a reputable history in the industry. Over the course of his career, Phil Laak net worth has grown to over $20 million USD which makes him one of the top shots in the industry. Apart from playing poker, Phil also take on consultancy work once in a while and he writes on poker. Apart from the time he took a wrong step to invest his bankroll in a game and became broke in the process; Laak has never gotten to the tipping point of becoming impoverished.
Phil is an Irish born California based professional poker player who has made a name for himself in poker circuit. He holds the WSOP bracelet and the WPT title. He also holds the record of the longest time playing poker game in a single session. He is popularly referred to as Unabomber because of his hooded sweatshirt and sunglass that he regularly put on at game table.