Popularly known as the Poker Brat, Phil Hellmuth was born on the 16th of July, 1964 in Madison, Wisconsin. Really, there is hardly anyone in the casino world who doesn't know who Phil is. Phil Hellmuth is a professional poker player who has made several winnings since he started his career in the gaming world. He became the winner of the record fourteen popular World Series of Poker Bracelets.
He is also the winner at the Main Event of the 1989 WSOP (World Series of Poker) as well as the 2012 Main Event of the World Series Poker Europe. He was also a 2007 inductee of the World Series of Poker Hall of Fame.
Personal Life of Phil Hellmuth
Born in Madison, Wisconsin, Phil Hellmuth is an American poker player known by poker players all over the world. Popularly called the 'Poker Brat', Phil attended the Madison West High School before proceeding to the University of Wisconsin in Madison for a period of three years.
Very much in love with poker games, he dropped out of school to pursue his passion as a full time poker player. Phil is currently married to his wife, Katherine Sanborn, a psychiatrist who works at the Stanford University. They have two sons, Phillip and Nicholas, and they all live in Palo Alto, California.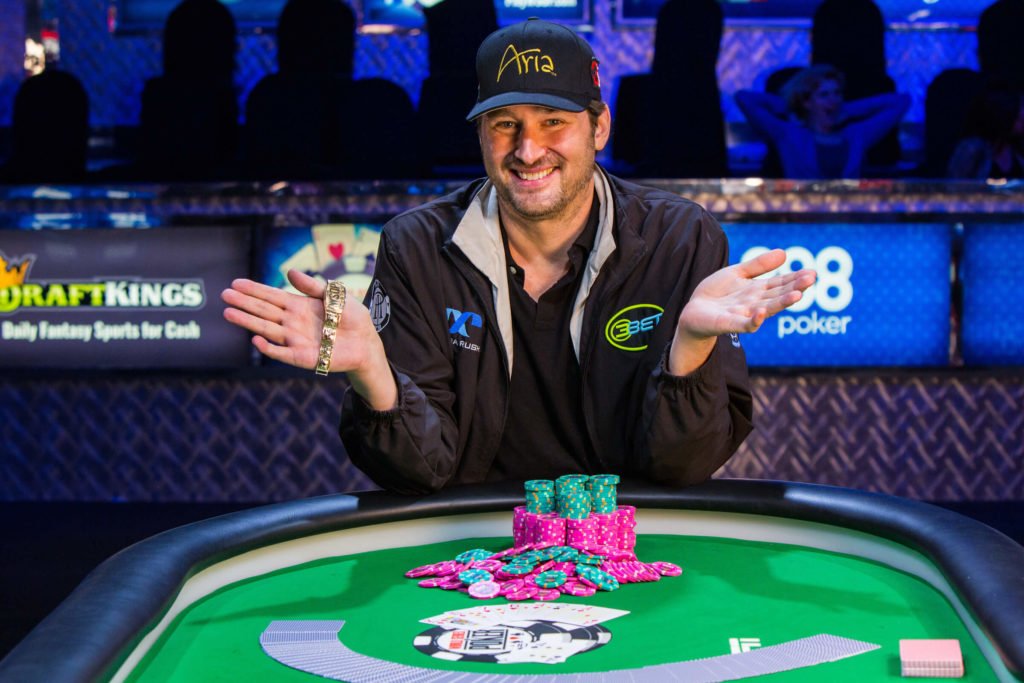 Phil Hellmuth's Poker Career
Phil ranked 12th on the list of all-time money and as at 2017, the total value of his live tournament winnings is over $21,750,000. He has played and won in series of World Poker events and this has brought him into fame right from his young age. To fully understand the extent of his impact in poker and how big his winnings are, it is essential to look at the chronicles of his career since he started playing poker.
His Early Poker Days
Phil's first appearance in the global poker scene was during the World Series of Poker (WSOP), 1988 where he had his first winning of $1,500 in the Seven Card Stud Split. He came out in the 33rd position after he was removed by the event's champion, Jonny Chan. By 1989, the twenty four years old Phil became the youngest poker player to win the World Series of Poker Main Event.
He defeated the two-time champion, Johnny Chan, during the heads up play. Phil holds the highest record of the most World Series of Poker (WSOP) cashes with a total of 108 and also the highest WSOP final tables with a total of 52, overtaking the famous T. J.Cloutier.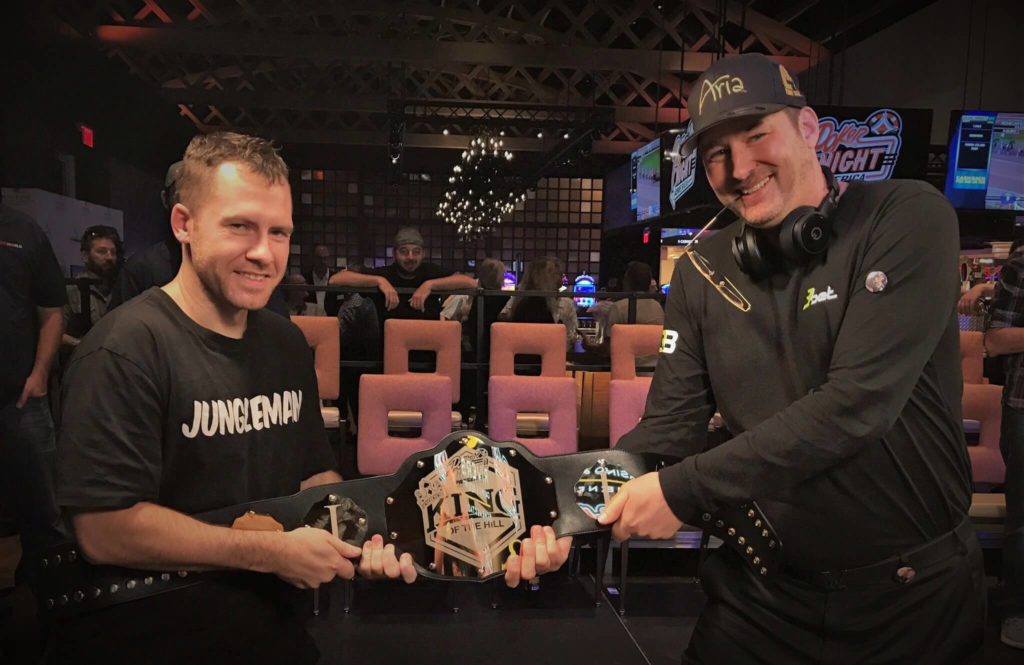 His Recent Career in Poker
By August of 2017, Phil Hellmuth has won more than $14,000,000 at the World Series of Poker (WSOP) and ranked 5th on WSOP list of All-Time Money. He was very close to other top players such as Antonio Esfandiari, Daniel Negreanu, Jonathan Duhamel, and Daniel Colman, in terms of ranking. Phil is has also taken the 5th position of all-time in total number of times he cashed during the WSOP Main Event. He has a total of eight WSOP Main Event cashes between the year 1988 and 2015, placing him directly behind Humberto Brenes, Doyle Brunson, Bobby Baldwin, and Berry Johnson.
Out of the total fourteen bracelets won by Phil, twelve of them were in Texas Hold' Em. Of course, he has also had series of success in other poker events. As at the beginning of the World Series of Poker 2015, a total of 22 out of the 52 final tables he was involved in cover a wide variations of games such as Seven Card Stud Hi-Lo, 2-7 Lowball, Omaha Hold 'Em (Limit, Hi-Lo, and Pot Limit), and Seven Card Razz. He was also involved in different mixed games including the H.O.R.S.E and the $50, 000 Poker Player Championship.
His first ever cash in WSOP which happens to be his first ever final table was achieved in the Seven Card Stud Hi-Lo game in 1988. His second final time and third cash in WSOP was achieved in the Pot Limit Omaha Hold 'Em game with Rebuys in the year 1989. Out of the 22 aforementioned Hold'Em games, Phil finished in the runner up place in about six of the games.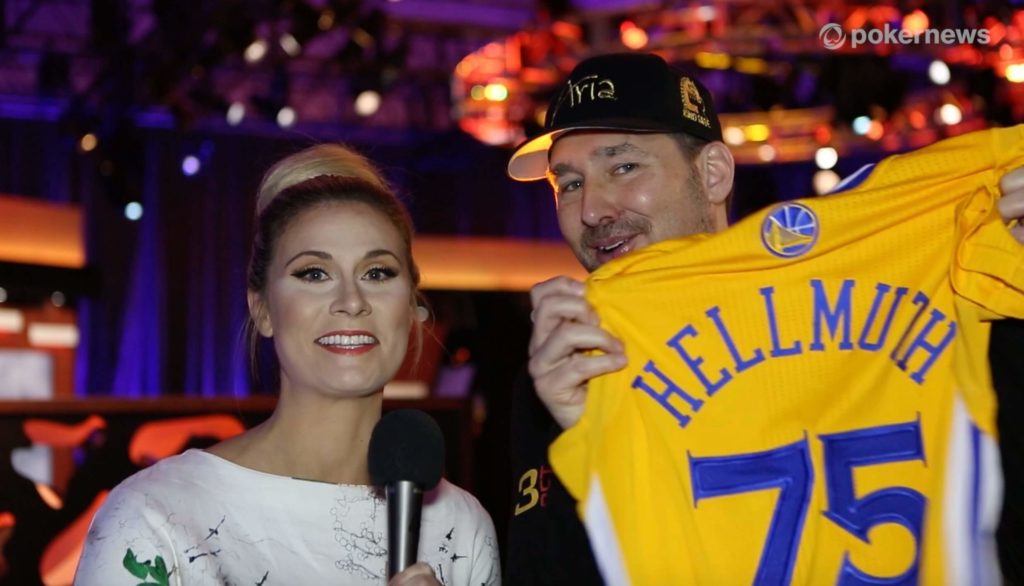 Highlights of Phil Hellmuth World Series of Poker (WSOP) Bracelets
| Tournament | Year | Prize |
| --- | --- | --- |
| No Limit Hold 'Em World Championship ($10,000) | 1989 | $755,000 |
| Limit Hold 'Em ($5,000) | 1992 | $168,000 |
| No Limit Hold 'Em ($1,500) | 1993 | $161,400 |
| No Limit Hold 'Em ($2,500) | 1993 | $173,000 |
| Limit Hold 'Em ($5,000) | 1993 | $138,000 |
| Pot Limit Hold 'Em ($3,000) | 1997 | $204,000 |
| No Limit Hold 'Em ($2,000) | 2001 | $316,550 |
| Limit Hold 'Em ($2500) | 2003 | $171,400 |
| No Limit Hold 'Em ($3,000) | 2003 | $410,860 |
| No Limit Hold 'Em with Re-buys ($1,000) | 2006 | $631,863 |
| No Limit Hold 'Em ($1,500) | 2007 | $637,254 |
| Seven Card Razz ($2,500) | 2012 | $182,793 |
| No Limit Hold 'Em Main Event (€10,450) | 2012 | €1,022,376 |
| Seven Card Razz ($10,000) | 2015 | $271,105 |
During the World Series of Poker in 1993, Phil became the second poker player in the history of WSOP to win three different bracelets in one single WSOP event. The first person to achieve this was Walter Puggy Pearson in 1973. One outstanding thing about Phil Hellmuth winnings is that three of his major victories were achieved in three consecutive days.
At the World Series of Poker (WSOP) 1997, Phil became a winner of another bracelet, which became his fifth in a decade. During the grand finale of the 1999 WSOP, his five different bracelets became the leader of the most World Series of Poker bracelets won by a single player in the 90s.
Phil also captured his 10th WSOP bracelet at the World Series of Poker in 2016. He won the WSOP bracelet in the No Limit Hold 'Em with Rebuys event at $1,000. At the 2007 WSOP, Phil earned his record breaking eleventh bracelets at the No Limit Hold 'Em Event ($1,500).
Of course, Phil is not in the game all alone; he has his sponsors who supported him all through the gaming event. For instance, his sponsor made sure he arrived at the 2007 World Series of Poker Main Event in a powerful race car.
Unfortunately, he lost control of the car at the parking lot of the Rio All Suite Hotel & Casino and smashed into a light fixture. Thankfully, there was no injury to his person save the poor light fixture. He later traded the race car for a limo to arrive at the event two hours later than his scheduled time.
Phil Hellmuth Spark with another Player
Phil is an excellent poker player but just like any other person, he has his flaws. During the 2008 World Series of Poker Main Event, he was seen verbally abusing another player in the course of the game. He was given a one round penalty as a result of this but the penalty was later overruled following a private meeting with Jeffrey Pollack, the WSOP Commissioner. Phil finished in 45th place at the tournament at the end of the event.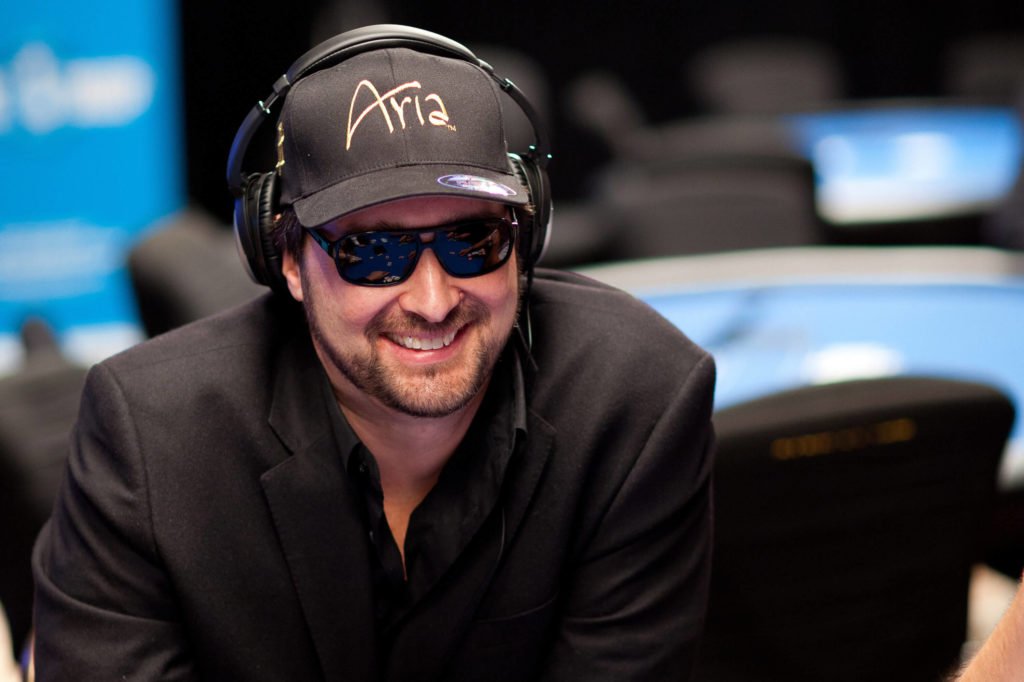 Phil's Other Poker Events
During the 2011 WSOP events, Phil played in three different tournaments and finished in the second place in those tournaments. He played in Seven Card Study Hi-Lo Split 8 or Better Champion, The Poker Player Championship 8-Game mix, and 2-7 Draw Low ball Championship. On 11th of June 2012, Phil won his twelfth WSOP bracelet during the $2,500 Seven Card Razz event. He defeated Don Zewin in the course of the game and won a total of $182,793.
It is important to mention that Don Zewin finished in the third place to Phil and Hellmuth when Phil won his first ever bracelet in the year 1989. This would be the first bracelet Phil won in a non Hold 'Em event which made him the first poker player to have earned at least one bracelet in the games within the past four decades.
He was also the only third player in World Series of Poker history to have won a bracelet in 4 different decades. Phil Hellmuth also earned a total of $2,645,333 for his 4th place position in the famous $1,000,000 Big-One for One-Drop tournament. This became the biggest single tournament cash of Phil's career since he started in 1988.
In October of 2012, Phil won his thirteenth WSOP bracelet during the €10,450 WSOPE No Limit Hold 'Em Main Event. Phil won a total of €1,022,376 during the event and became the first poker player to win both WSOPE and WSOP Main Events. As a result of this win, Phil became the first player in the history of WSOP to win many bracelets within a period of three years (1993 –three bracelets, 2003 – two bracelets, and 2012 – two bracelets). He also finished in the runner up position during the World Series of Poker Player of the Year race in a third time record. On the 8th of June 2015, Phil won his fourteenth WSOP bracelet, earning $271,105 in a $10,000 Card Razz Event.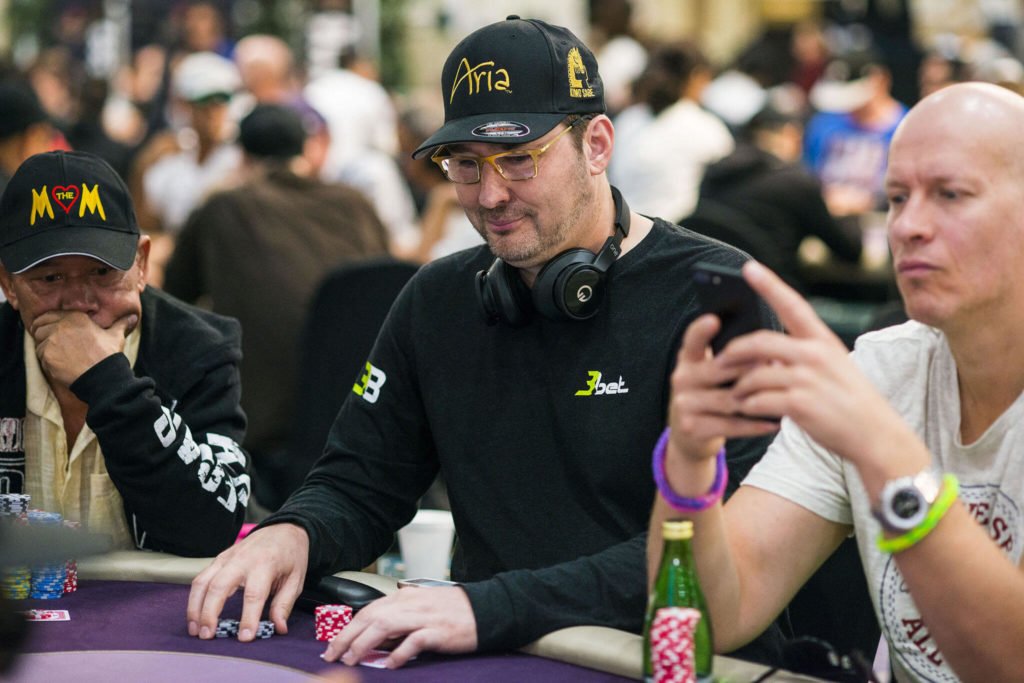 Phil Hellmuth World Poker Tour
In the course of his professional poker career, Phil has embarked on different poker tours all over the world. He has cashed fourteen times and made a total of five final tables during the World Poker Tour. He concluded his game in the 4th position during the World Poker Tour in $3,000 No Limit Hold 'Em. This was achieved at the 49-er Gold Rush Bonanza in the year 2002. He also finished in the 3rd place at the World Poker Finals in 2003 at Foxwoods, playing in $10,000 No Limit Hold 'Em Event.
Phil played and finished in the 6th position during the L.A Poker Classic in 2008. He also played at the Bay 101 Shooting Star poker event in the year 2010 where he finished in the 3rd place. Phil became the Television bubble boy in 2010 when he finished in the 7th position at the $25,000 World Poker Tour World Championship. By 2017, Phil Hellmuth has amassed great wealth in his poker career, winning some cool $1,456,065 cash in the World Poker Tour tournaments.
Phil Hellmuth other Notable Poker Tournaments
Apart from the regular WSOP events, Phil has also been part of other numerous tournaments in the poker gaming world. He is known to make frequent appearances at different episodes of Poker After Dark. He appeared both as a guest commentator and also as a player.
He won his first tournament in Poker After Dark during the first episode of the 3rd season of the show. The winning earned him the sum of $120,000 cash. He came back after two weeks to claim the 2nd Poker After Dark title with a winning prize of another $12,000. He because the champion of the season 3 Late Night Poker after that and has won in different positions in many other poker shows.
In the year 2000, Phil became the winner of the Poker EM-7 Card Study Main Event at Austria, known as the biggest 7 Card Stud tournament event in the world. Phil Hellmuth defeated about 437 other poker players to emerge the winner of a cash prize of $106,250.
He won the 1st National Heads Up Poker Championship in 2005 and defeated some top players in his leagues. He defeated other players including Huck Seed, Antonio Esfandiari, Paul Phillips, and Men Nguyen during the fight for the final place against Christ Ferguson. Phil defeated Ferguson in two of the three games they played together.
He went back in 2006 to repeat his victory but lost to Chip Reese during the first round of the game. Phil took part in the Premier League Poker of PartyPoker.com, a British tournament, and as result, could not participate in the 2007 National Heads Up Poker Championship.
He won in four rounds out of the six group matches and finally finished in the third place during the finals. In 2008, Phil returned to play in the National Heads Up Poker Championship and lost in the first round to another player, Tom Dwan. He played again in 2013 and finished in the second place with earnings of $300,000.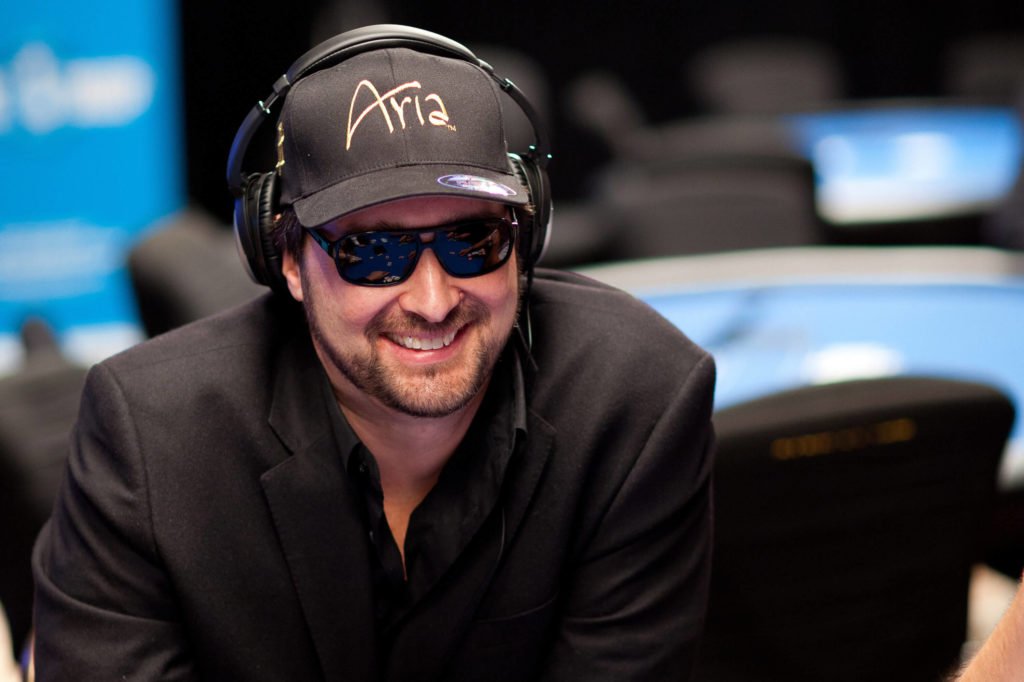 Other things Phil Hellmuth got involved in
No doubt, Phil is a die-hard poker player and this reflects in every other activity he engaged in during his time off Poker tournament scenes. Phil Hellmuth made his appearance at the season one, four, and six of Cash Game show, 'High Stakes Poker, organized by GNS. He was part of the team that created the UltimateBet software and was also an ex-member of Team UB.
Phil has produced numerous instructional videos on poker which include Phil Hellmuth Million Dollar Poker System, and Ultimate White to Black Belt Course. He has also developed some contents for Card Player magazine and written many poker books. Top among the books he authored are Bad Beats and Lucky Draws, Play Poker like the Pros, Poker Brat, and The Greatest Poker Hands ever played.
In the month of May of 2004, Phil corroborated with Oasys Mobile to develop a mobile application known as Texas Hold 'Em by Phil Hellmuth. Also, he took over the post of commentator from Phil Gordon on Bravo's Celebrity Poker Showdown. He became a poker coach on Best Damn Poker Show, created by Fox Sports Network. Through his publishing organization, Phil's House Publishing, Phil published the book written by Marvin Karlins and Stephen John, Deal Me In: 20 of the World Top Poker Players Share the Heartbreaking & Inspiring Stories of How they turned Pros.
Phil Hellmuth is indeed a bundle of talents. If he is not playing poker at a tournament, he is definitely cooking up something to take the world of poker games by storm.
Controversies surround Phil Hellmuth Personality
Popularly known for being a 'brat', his nickname, 'Poker Brat' seems to have stuck to him. Phil seems to have a personality of a spoilt brat who always wants things to go according to his plan. It sometimes looks like he can't handle defeat as could be seen in his different outbursts after taking a serious beat in a game.
For example, during the first week of Poker After Dark show on NBC, Phil could be seen asking fellow professional poker players, Steve Zolotow, Shawn Sheikhan, Huck Seed, and Gus Hansen to remain quite (practically telling them to shut up) when it was his turn to take action on his hand after being raised by Annie Duke. Probably because it took them by surprise, they actually kept quiet and allowed him to proceed with his speech.
However, when he began talking, Seed interrupted and told him to keep quiet so that he (Seed) can talk. This generated laughter from other players which didn't go down well with Phil Hellmuth. He became furious and threatened never to show up and play again in the show, and angrily walked off the show.
The producer of the show finally intervened and brought Phil back to the show. Well, he was later eliminated from the show some hands later by another player, Sheikhan. According to Duke, Phil's reaction during the episode was one of the biggest overreactions she has ever seen.
Another incident where Phil had an issue with his co-player happened on the 5th day of the 2008 World Series of Poker event. The incident happened during a game between him and another player, Cristian Dragomir. An issue arose during the game and Phil called Dragomir an idiot among other insults. He was later issued a warning for insulting another player. He didn't stop there but kept issuing verbal abuse on the person of Cristian Dragomir, even though other players advised him to stop.
He eventually received a one round penalty for this offence which was to be executed at the beginning of game the next day. Phil later had a private meeting with the Commissioner of WSOP, Jeffrey Pollack, and the penalty was overruled.
There are other instances where Phil Hellmuth has displayed his 'bratty' personality. In spite of it all, his fans still love him and he remains one of the best poker players of all time.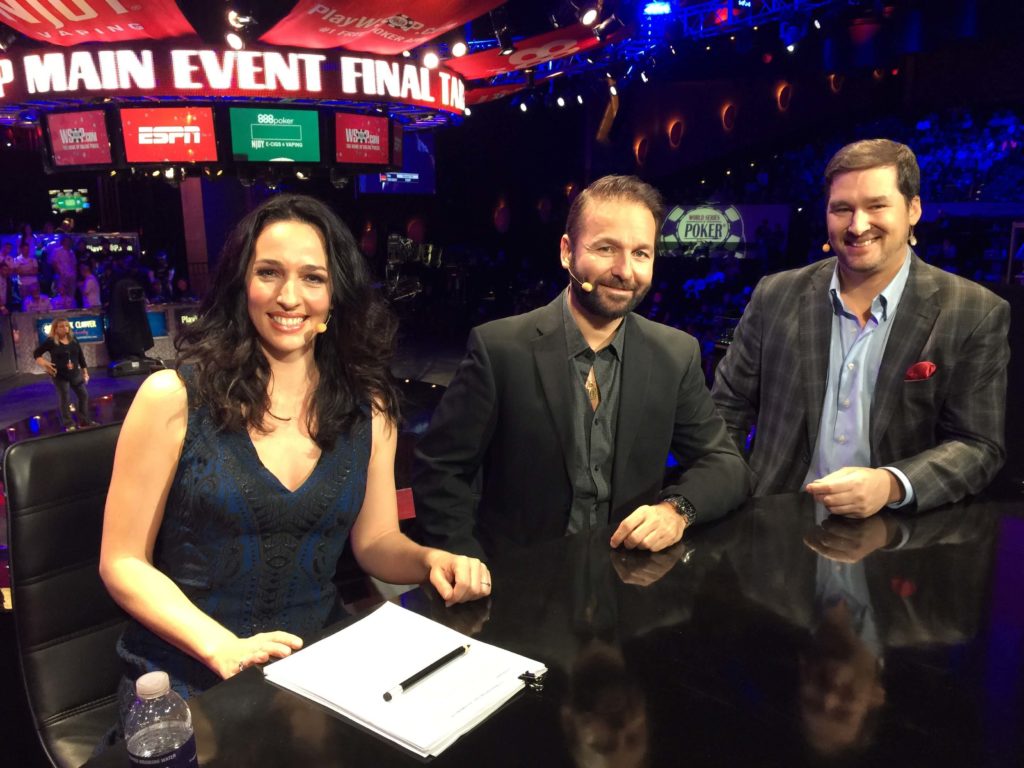 Where is Phil Hellmuth currently?
Well, Phil is currently at the 2018 World Series of Poker in Las Vegas showing the world why he is referred to as the Poker Brat. First, he made his grand entrance at the Main Event dressed as Thor with 14 models dresses as 'Wonder Woman'. His entrance definitely sparked numerous comments from fans on social media and it seems that was the exact reactions Phil wanted to achieve.
Well, since the WSOP started, Phil has not performed to expectation as he had only been able to get to the 30th place in many of the tournaments he has been part of. It is of no surprise therefore that he has begun to exhibit his 'Poker Brat' personality during the event. Phil seems to have become very predictable about his actions when things don't go well as he hoped.
His latest flare-up was with his unnamed poker opponent who didn't take kindly to being verbally abused. Obviously, the opponent responded to Phil in the same manner. Phil later stormed his Twitter page to report the event. He twitted the altercation with his opponent and reported that he was called a wimp, a bad poker player, a P. O. S, a Bad Person, and many other insulting words. Phil accepted that he was at fault 100% and deserved what was dished out to him.
According to him, he apologized to the opponent but that seemed not to be enough. He came back online to post on his Twitter page that 'for the record, I am proud of the person that I am: loyal true, authentic, honest, fun loving, passionate, [w] perfect ethics and morals. You would enjoy having a beer [w] me! I am not proud of those "Poker Brat" moments where I lose it at the tables. That is my weakness and flaw.' This Tweet got over 1,600 likes and 71 Retweets. Many of his followers seem to accept his weakness and flaws with many encouraging and hailing him over this Tweet.