Despite economic downturns experienced by different sectors, the online gambling industry has exploded in recent years. From traditional casino games like slots and roulette to sports betting and fantasy leagues, there are endless ways for people to get in on the action.
Add to that the convenience of placing wagers anywhere using a mobile device, and it's easy to see why the industry is forecasting further growth. According to the American Gaming Association, online casino revenue in the US grew by 35.2% to USD$5 billion in 2022—a significant increase considering the limited number of states where online casinos are legal.
This article discusses the state of the online gambling industry, highlighting the astronomical amounts of money being exchanged on different iGaming platforms and touching on the potential expansion of the regulated online gambling market in the US.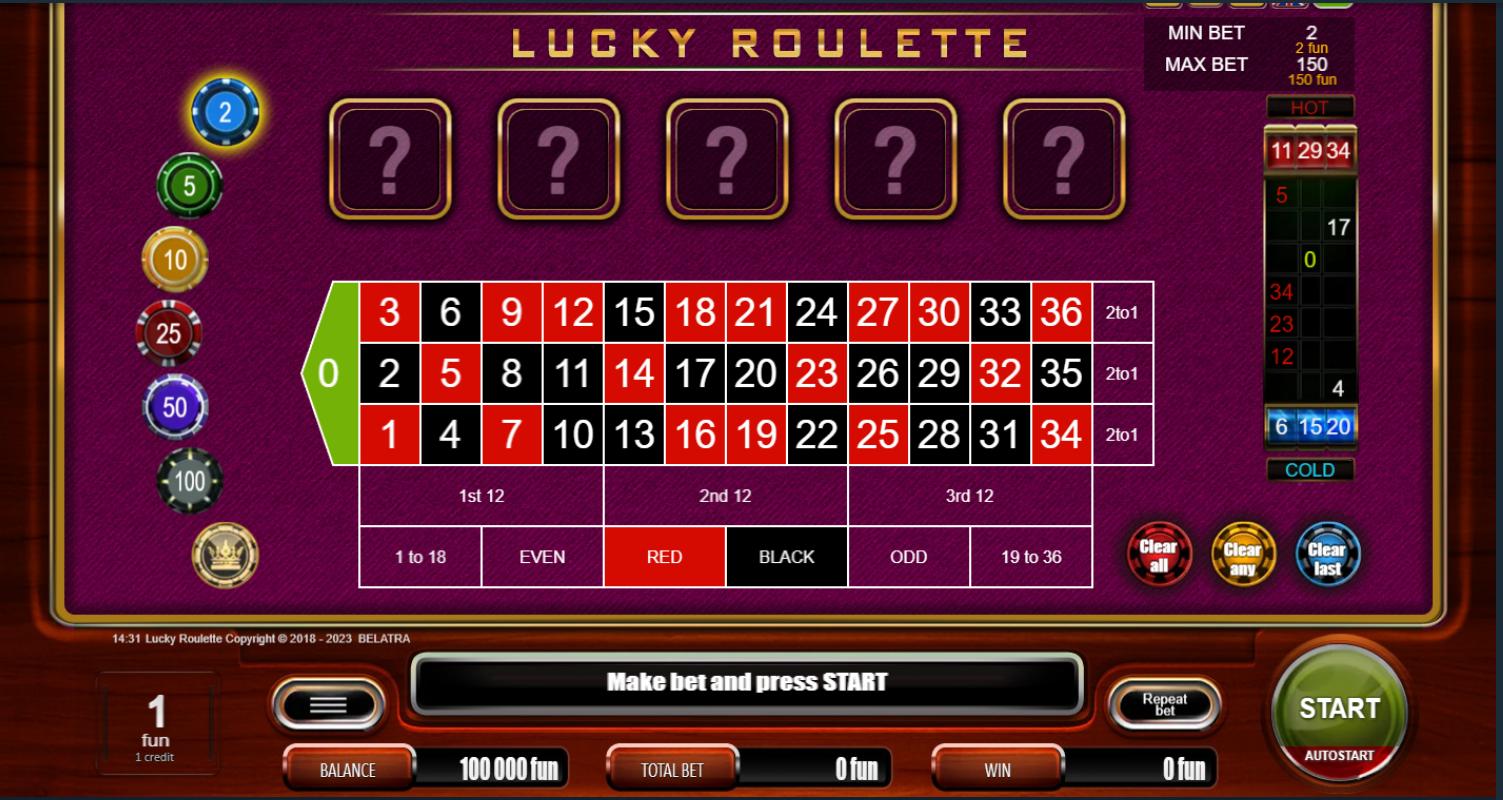 Online gambling market insights 
One of the most striking aspects of the online gambling industry is the sheer amount of money that is being wagered and won. According to a recent report, online gambling revenue is expected to exceed $100 billion by 2024, with some individual players winning truly staggering sums of money.
To showcase just how crazy the money involved in gambling is, the owner of the crypto casino recently tweeted that almost 6% of all Bitcoin transactions were used to wager on Stake.com, the world's largest bitcoin casino. While this is an extraordinary claim by Australian billionaire Ed Craven, considering what's being dubbed a "crypto winter," crypto gambling is expected to reach USD$93 billion in 2023.
According to the non-profit organization Ohio for Responsible Gambling, an estimated 50% of all Bitcoin transactions involve gambling. A separate report noted an increase in crypto bets from 2021 to 2022, with 70% of those wagers using Bitcoin. Craven's Stake.com is at the forefront of this movement, with over 3,000 games accepting crypto bets, including other currencies like Binance, Tron, and Ripple.
In addition, a study projects the online gambling market recording a compound annual growth rate (CAGR) of 11.49% over the next five years—a market valued at USD$63.53 billion in 2022. Should it deliver on its promise, this would push iGaming's market value to USD$145.6 billion by 2030.
Other insights from the online gambling market analysis include the following:
North America is the fastest growing online gambling market, while Europe remains the largest, with a market share of 41.1%. The continued European growth can be attributed to the legalization of markets in countries like Spain, France, Germany, Malta, and Italy. Additionally, the UK Gambling Commission has allowed companies to promote gambling websites.
Online casino gambling is one of the fastest growing gambling categories because of the optimal user experience and convenience offered by the top platforms. On top of that, free-to-play versions of online gambling games have been instrumental in attracting new players.
Similarly, the security and convenience of mobile and online payment gateways have contributed to the industry's growth. Meanwhile, the adoption of technological advancements like virtual and augmented reality and blockchain are opening up more possibilities for online gambling platforms.
In the US, sports betting had gross revenue of USD$7.5 billion in 2022, a massive 72.9% growth from 2021, fueled by the launch of legal betting in Kansas and the introduction of mobile sports betting in Louisiana, Maryland, and New York.
As a note, Americans spent a staggering USD$93.2 billion on sports bets in 2022. And with online gambling organizations inking partnership and sponsorship deals with athletes, teams, and leagues, this number will only continue to grow.
Superfan Drake and his super wagers 
One of the most notable examples of the massive amounts of money being wagered in the online gambling industry is Canadian rapper Drake. In just two months as an ambassador for online cryptocurrency casino Stake.com, Drake wagered cryptocurrency worth over $1 billion on various sports and casino bets. This included wagers on sports leagues like the NFL and NBA, as well as international sports like the UFC and Formula 1.
Speaking of sports betting, Drake has become one of its biggest proponents, regularly placing six-figure wagers across different sports and posting them online. In February 2022, Drake even shared a photo of himself playing high-stakes roulette at a Toronto Raptors game, showcasing his love for the activity. While some fans expressed concern over Drake's gambling habits, others saw it as a clear example of the insane amounts of money being wagered in the online gambling world.
As one of the most famous sports bettors in the world, Drake was certainly not missing out on the Super Bowl LVII action, where some 50 million Americans reportedly wagered USD$16 billion. According to Drake's social media posts, his wagers included the following:
USD$700,000 on the Kansas City Chiefs moneyline (+110)
USD$50,000 on Patrick Mahomes scoring the first touchdown (+1400)
USD$50,000 on JuJu Smith-Schuster scoring the first touchdown (+1900)
USD$30,000 on the Chiefs winning both halves (+400)
USD$30,000 on the Chiefs winning every quarter (+2000)
USD$60,000 on tight end as the Super Bowl MVP position (+900)
USD$25,000 on Travis Kelce winning the Super Bowl MVP (+900)
While most of these separate bets didn't win, Drake still came out on top at the end of the day, winning his largest bet. In case those wagers weren't staggering enough, below are some of the sports super fan's wildest sports wagers:
Drake bet USD$1 million on Argentina winning the World Cup Final in regulation. While Argentina won the match, they did so on penalty kicks. As such, Drake lost this massive wager.
In 2022, he cashed in on an impressive three-leg parlay. Drake had the Dallas Mavericks, the New York Rangers, and the Pittsburgh Penguins winning their respective Game 7s. Drake's USD$308,832 wager won a whopping USD$2.6 million.
In the same year, he bet USD$159,000 on the Golden State Warriors winning the Western Conference, bagging close to USD$650,000 for that wager.
Drake won USD$559,000 on two bets for Super Bowl LVI—putting money on the Los Angeles Rams to win the Super Bowl and Odell Beckham Jr. Scoring a touchdown.
At UFC 274, he lost USD$427,000, betting on Justin Gaethje to beat Charles Oliveria.
The multiple Grammy award-winning artist is an ambassador for the online cryptocurrency casino Stake.com. It's been reported that Drake has wagered over USD$1 billion worth of cryptocurrency across major sports leagues and tournaments.
The rise of online casinos  
As the gambling industry continues to proliferate in the digital realm, online casinos have experienced exponential growth. Stake.com, for example, now has over 3,000 casino games from the best providers in the iGaming industry. While designed to be user-friendly, these games are rich in features, making them an easy and fun experience for everyone.
Traditional casino games found online include the following:
Roulette: Live roulette is one of the most exciting online casino games. And while the various numbers on the table and the wheel may appear daunting to beginners, it's an accessible game that allows you to create more sophisticated betting strategies as you progress.
Blackjack: A major advantage of playing blackjack online is the relatively small house edge, which increases the RTP. For example, the house edge for Stake's original blackjack game is at 0.5%, meaning only that percentage of the money spent on the game will go to the casino.
Baccarat: This is another accessible game for beginners, as it's simple to learn and easy to play. And similar to roulette, while the gameplay might be simple, there are available betting strategies that can open up a new world of excitement for players.
Online slots: Slots have always been popular in brick-and-mortar casinos. And with the ability to play them from a mobile device, online slots have become incredibly popular.
Furthermore, online casinos feature live dealer table games, where a human dealer and the backdrop of land-based casinos offer an exciting and fully immersive experience. You can even choose your preferred dealer, which adds ritualistic superstitions to the fray. Such is the case with online live poker games, where you can take a virtual seat at a table and have a real-life dealer send cards your way.
To ensure fairness, independent, third-party companies test each game's random number generator (RNG) and return-to-player (RTP) rates. A game's RNG uses code to generate a virtually endless stream of random numbers. This is designed to give players an equal probability of winning. Meanwhile, RTPs ensure that a percentage of the money spent on the game goes back to the players. This metric is primarily used for online slot games.
Online casino platforms are continually developing solutions to support and assist players while preventing fraudulent activities.
Biggest online slot wins 
As you might imagine, the flux of cash in and out of online casinos is incredible. Below are some of the most significant reported online casino wins:
In 2013, a Finnish man who requested anonymity won USD$24 million on a Mega Fortune slot game from a 25-cent spin.
A Belgian player won over €19.4 million (almost USD$21 million) on Microgaming's online slot title Absolootly Mad Mega Moolah. The lucky player bet less than USD$16 on what was supposed to be his last spin. A week before, another player took home USD$2 million from another Microgaming title on the same online casino.
Insanely enough, the Guinness Book of World Records lists USD$20,062,600 as the previous largest jackpot payout in an online slot machine from yet another Microgaming title Mega Moolah. The player won the jackpot in under 50 spins.
British soldier Jon Heywood opened his online casino account 25 minutes before winning the massive jackpot of USD$17.2 million playing Mega Moolah Progress Jackpot. He wagered 25 pence for the spin.
In 2011, a player from Norway turned a sleepless night into around USD$13.47 million. According to the player, instead of forcing himself to sleep, he played a Mega Fortune slot game.
As you can imagine, the appeal of online slots stems from the constant possibility of winning millions. Game developers are designing slots with different themes to cater to varying player preferences, allowing everyone to find a game that suits their tastes, whatever that may be.
Why iGaming legalization may spread across the US 
According to the American Gaming Association, Americans gamble an estimated USD$511 billion yearly using illegal and unregulated sportsbooks and websites. The report states that this takes away USD$13.3 billion in tax revenues from state governments or USD$2.5 billion more than legal operators generated in 2021.
Below is the estimated breakdown of these figures:
| | | |
| --- | --- | --- |
| Unregulated market | Estimated revenue | Estimated tax loss |
| Sports betting | USD$3.8 billion | USD$700 million |
| Online slots and table games | USD$13.5 billion | USD$3.9 billion |
| Unregulated machines | USD$26.9 billion | USD$8.7 billion |
Currently, iGaming is only legal in six states in America (New Jersey, West Virginia, Michigan, Delaware, Pennsylvania, and Connecticut) while the legal sports betting market has been expanded to 36 states and the District of Columbia.
Other states that could enact iGaming regulation in the foreseeable future include the following:
Illinois: According to state Senator Dave Syverson, Illinois is prioritizing laws to regulate traditional casinos, as construction of land-based casinos in the state is scheduled to begin in 2023. However, he didn't rule out the possibility of iGaming legalization in the same year.
Indiana: In early 2022, the state introduced a pair of bills to legalize iGaming. By the time you're reading this, there's a chance Indiana has become the seventh state to legalize iGaming in the US.
Maryland: The state began regulating retail sports betting in December 2021, with seven sportsbook operators now live. While it remains unclear whether Maryland will expand its commercial gambling laws to iGaming, things appear to be trending that way.
New York: State Senator Joseph Addabbo is expected to introduce an iGaming bill in 2023. The Senator attempted to introduce the legislation in 2022 but was asked to push back the endeavor.
According to American Gaming Association CEO Bill Miller, unregulated gambling takes advantage of vulnerable consumers. You can see this with unregulated machines, which have an average RTP of 75%. Compared with online slots, which average upwards of 93%.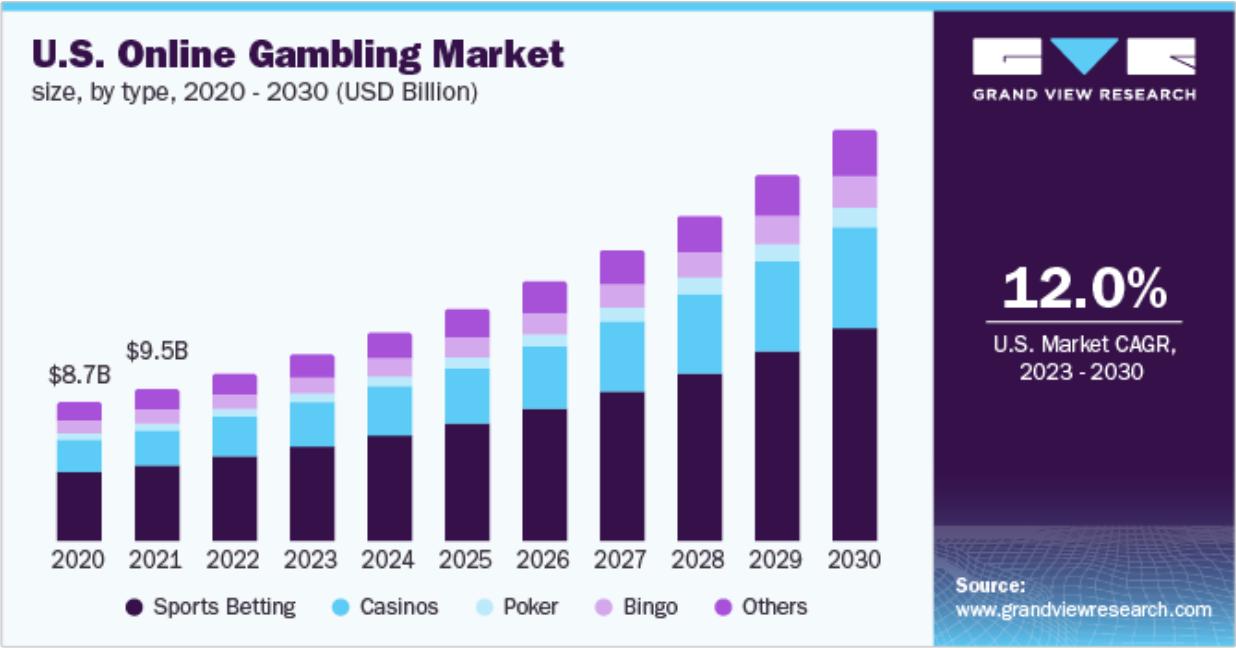 Final words 
The online gambling industry is a huge and rapidly growing sector, with billions of dollars changing hands every day. While the prospect of winning big can be tempting, it's essential to be aware of the risks involved and gamble responsibly. Gambling can be an addictive activity with dire financial consequences.
However, with increased investments in online gambling platforms, operators will certainly heighten their marketing initiatives. Aside from this, continued internet penetration and integration of technological advancements will improve products and user experience, further boosting the industry's growth potential.
Though national and regional officials are aware of the potential revenues brought by legal iGaming markets, they're ensuring their citizens are protected from all the risks entailed by introducing legal gambling markets.