There are many in the online gaming community that believe the number of games with an Ancient Egypt theme is unrealistically high. But when it comes to Ancient Egypt games that came out before this saturation, Book of Dead is one of the best-known and most popular. This genre original has stood through the ages and is still one of Play'n Go's go-to games amongst online gamers.
Many have speculated as to why Book of Dead is still so popular. One of the reasons put forth is the efforts made by the game developer to make the themes of the game as realistic as possible with the best graphics available. Regardless of what the reasons might be, Book of Dead is certainly a slot game that any gamer should take a spin with sometime.
How to play Book of Dead
Once you are in the slot game, there will a 5-reel layout presented to you. 3 rows are added to this mix, making the visual experience fulfilling to even the most tech-savvy gamers. In addition to stellar graphics, there are 10 pay lines that gamers can use to place their wagers. Having said that, gamers have the choice of modifying them by pressing the plus and minus buttons located near the box.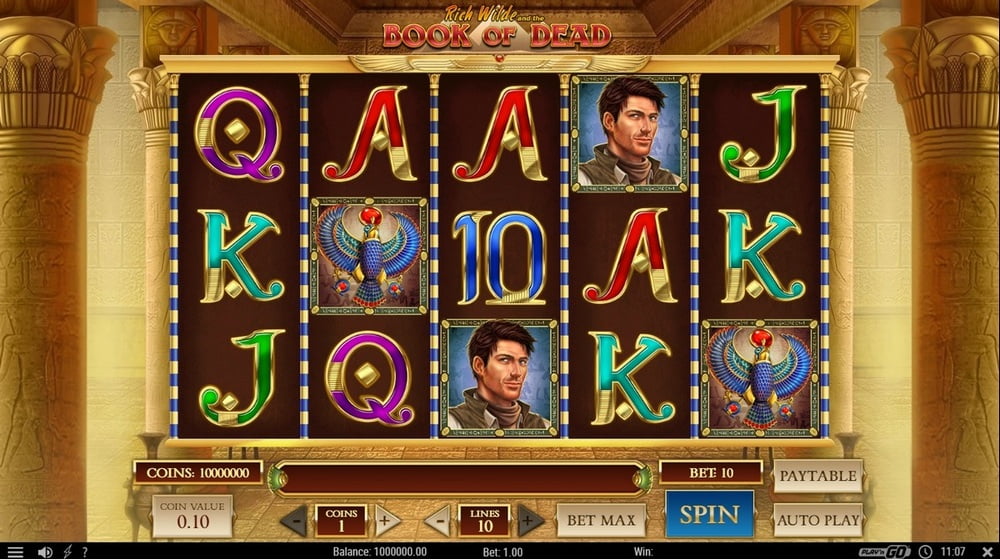 How much you bet on each round is also something that gamers can fine tune to suit their tastes. The first variable that can be customized for wagers is the coin value. These range from 0.01 and 1 that gamers can pick from. Meanwhile, gamers can decide how many coins are in play from one to five. Wagers as low as 10 cents can be placed and can go as high as 50 Euros for a single spin.
Play'n Go is world-famous for creating games that capture the imagination of gamers in terms of their stunning graphics, and Book of Dead is no exception to this. When gamers access this game, one of the first things they will notice is a very interesting background featuring an underground temple or tomb. This lets gamers experience a sense of excitement and adventure from the very beginning.
Once gamers initiate the game, they will encounter symbols that range from 10 all the way to A. A reward of up to 150 times your wager is up for grabs when you get both the A and K icons. Phoenix rising is another symbol to look out for, along with Anubis, the Egyptian god.
These slot offers already sound attractive, don't they? In addition to the outside attraction of the game, the features found on the inside are really impressive as well. There are a few of them lurking throughout the game, and they provide a much-welcomed addition to the overall experience.
Book of Dead Slot: Features
Exciting features built into the gameplay would seem to be a must for any high-quality adventure themed online slot game. In this regard, Book of Dead certainly does not disappoint. Indeed, Book of Dead offers a wide range of different features that have allowed it to remain popular for so long. One of the initial set of prominent features includes the wild symbol.
This has a double purpose, being both a wild and a scatter at the same time. It can potentially replace any and all other symbols on the reels of Book of Dead. What this entails is that this symbol can seriously increase the chances that you will form a winning spin.
On top of this, as a scatter symbol, the operational skills behind it means that gamers will receive the commensurate payout as long as three or more are present somewhere. If gamers are able to accumulate five scattered wild, they can expect to see their wager multiplied by two hundred-fold. If that was not enough, the free spins round feature will be activated if at least three of these scatter symbols come up.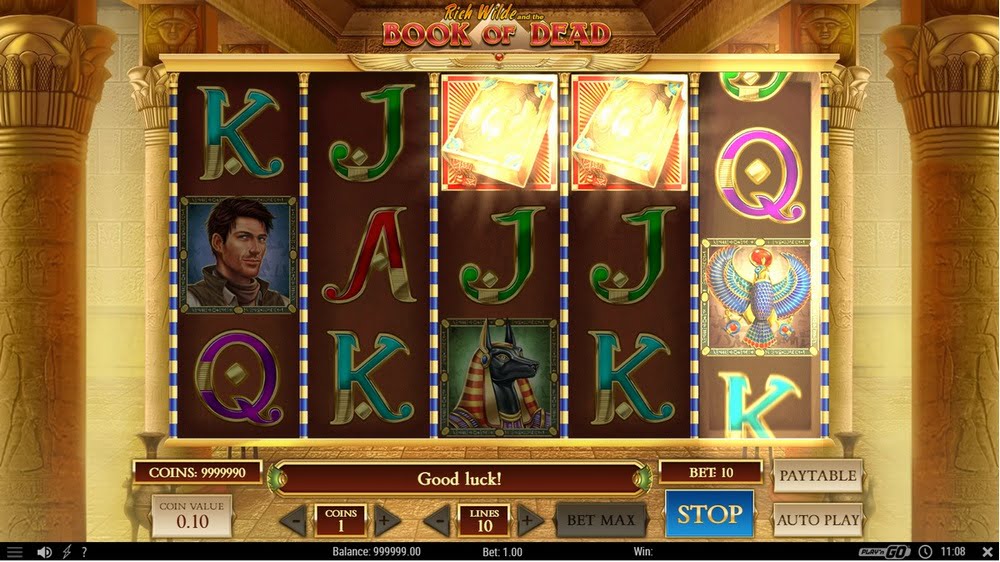 Ten of these will be given to qualified gamers to enjoy, and there is a secondary benefit waiting for them as well. A Special Expanding Symbol will be selected prior to the commencement of the round.
This symbol will be chosen by chance at the beginning of each round. This will represent one of the higher-rewards symbols and forms a section if the win when it comes up. When this happens, it will increase in scope to encompass the whole of the reel or reels present. While this involves a high degree of uncertainty, this can potentially lead to up to a five thousand-fold payout if gamers are able to strike all five Rich Wilde symbols.
Finally, Book of Dead has also created their very own gamble round that can be activated. This is done once you have been able to form a winning combination. By using this winning combination, gamers will be tasked with figuring out either the color or the suit of the subsequent card in the pile. If the color guess is accurate, winnings will multiply by two. An accurate suit guess will double it another time.
Book of Dead Slot: Verdict
There is no other game that comes to mind that can encapsulate the brilliance of Play'n Go. Whether it is the impeccable visual displays or the built-in surprises throughout the gameplay, Book of Dead is certainly a game to behold. Considering the immense potential for massive game winnings that are offered to all gamers, there is so much more to Book of Dead than meets the eye.
Being offered free spins on any game will excite just about any online gamer, and anyone who says they are not a fan of that is most likely lying to you. But on top of offering them, Book of Dead sweetens the deal by incorporating the Expanding Symbol to expand your potential winnings. And if that was not enough, Play'n Go adds in a gamble round into the gameplay sequence as a final touch to make Book of Dead absolutely irresistible. All in all, it can be safely said that Book of Dead is one of the best, if it is not the absolute best, slot game anywhere on the internet.