With everything that the technology provides, we get to see and experience the world from one place. This has made things quite easy for most people. While you were doing your rounds on the internet, you definitely have come across the name Gabe Kaplan. Or better yet, you have seen him as an actor or in the world of poker. If those were just speculations, this article is here to clear all the doubts. Gabe Kaplan is a professional poker player, an actor and also a comedian with an American nationality. He has been in the show business for decades now and holds a reputation you can't miss.
For most, he is known for starring as a host in shows like "Welcome Back Kotter" and "High Stakes Poker". He has also appeared in various movies and TV series that include Groucho, Tulips, Jack the Dog and The Grand, etc. With this information, Gabe Kaplan is surely one person you can never miss on the news or on the internet. However, that is not all the information we have on him right now. If you enjoy Poker news and follow it keenly, then you should know about the big names in poker. Not only are we going to give you all the juice concerning him, but we are also going to delve on Gabe Kaplan net worth and a bit of his personal life. Read on to find out more about this famous poker legend.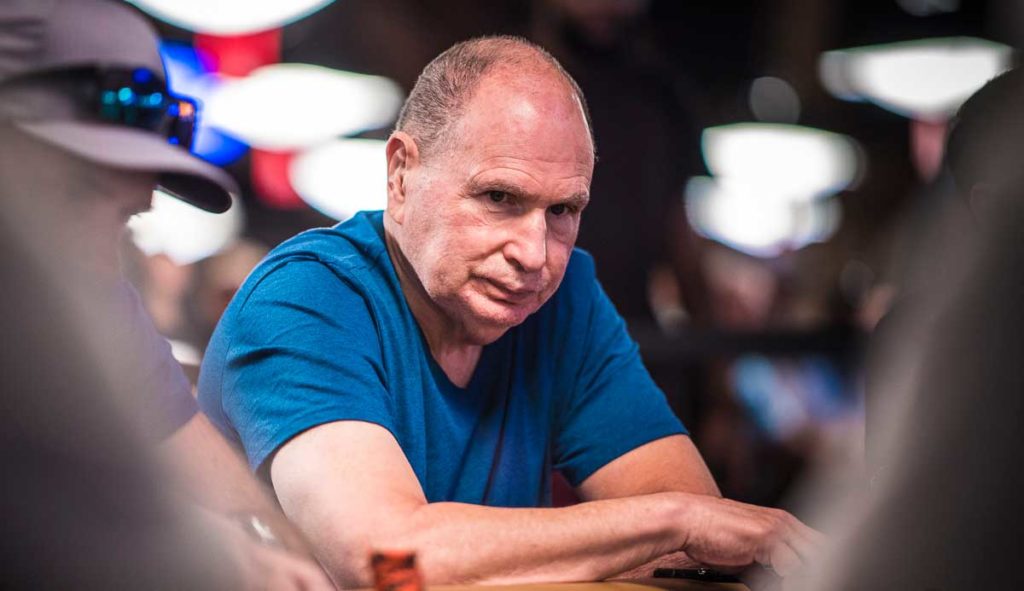 Who is Gabe Kaplan?
Gabe Kaplan is a man of many professions including poker. He is an American actor, writer, comedian, sports commentator, and professional poker player who was born on March 31st, 1945. Gabe was born in Brooklyn, New York in the United States and was given the name Gabriel Weston Kaplan. He was born to Charles Kaplan and Dorothy Kaplan and they are both Jewish. This makes Gabe Jewish. That's pretty much everything we found out about this poker legend's early personal life. He has not disclosed much about his personal life to the spotlight and he prefers keeping it that way.
Kaplan is known to keep his personal life that doesn't belong to the public, private. However, we found out a little about the 74-year old height which stands at 1.82 meters. Since his childhood, he has maintained his personality and also his body to always be appealing to his fans across the globe. This is expected given that he appears in plenty of places that require recognition and he has to keep a clean reputation.
Gabe Kaplan Early Life
As a child, Kaplan was interested in becoming a Major League Baseball player. By then, he was still residing in Brooklyn, New York and he received an invitation to the San Francisco Giants' spring training camp. Two years later, he had not made a single minor league roster, he was on the verge of giving up. He later decided to move on to bigger and better things. He went to New Utrecht High School and graduated.
Gabe Kaplan started working at Lakewood in New Jersey as a hotel bellboy. While still there, he saw many comedians who resided in the hotel while they were touring perform. Kaplan started enjoying the jokes and thought; that would be a great kind of interest. He began preparing to pursue the newly found career in stand-up comedy. In 1964, Gabe Kaplan polished his standup career and practiced it in high places including Café Tel Aviv at 250 West 72nd Street in New York. It was in these places that Gabe acquired more confidence to stand in front of a magnitude of people to perform.
The comedy career for Kaplan was growing successful by the day and he decided to spread it across the country. Since he was born in Brooklyn, he had plenty of experiences and knowledge of the different places he decided to tour. In all the places, he was positively received. As of May 1973, Kaplan made five appearances on the Tonight Show Starring Johnny Carson. This was until December the next year. At the same time, he was recording the comedy album Holes and Mello-Rolls. The album majored in routines from his high school days and plenty of other topics. This was relatable to his audience and they ended up adoring him.
Kaplan with Eric Cohen and Alan Sacks created the sitcom, Welcome Back, Kotter. What's more, he also helped in developing the core format which was mainly centered on his comedy act. He took the role of Gabe Kotter in the sitcom who comes back as a teacher in the dysfunctional high school he was once a student. The TV series ran from 1975 to 1979 which was long enough to have an impact on Gabe Kaplan net worth. It is during this time that he even got himself a home in Palm Springs in California, thanks to his great income. Also, during this time, the "Up your nose with rubber hose!" from the original album line "up your hole with Mello-Roll" became popular slogan derived from the show.
The Catchphrase from the sitcom became quite prevalent. It was during that time that Elektra Records released 'Up Your Nose' comedy record by Kaplan. Kaplan co-wrote and co-produced the record which was a great hit that smashed the Billboard Hot 100 in January 1977, peaking at position 93. This greatly impacted Gabe Kaplan net worth.
In 1976-1978, a period of two years, Kaplan took part in the ABC celebrity athletic competition Battle of the Network Stars. He also participated in the same later in 1981. Kaplan remained the captain of the ABC network team during the first five competitions. He defeated Robert Conrad in the first completion. Conrad was representing the NBC team as the captain and participated in the event. He won 175 points for the ABC television network.
The sitcom, Welcome Back, Kotter was canceled and flung John Travolta as an actor. Since Kaplan had no show to go back to, he went back to his standup comedy act. This time, he featured in plenty of movies including Fast Break in 1979 which he had a starring role. In 1981, he was in Nobody's Perfekt as well as Tulips. He also represented the comic Groucho Marx in a one-man show. Gabe was also in the Lewis & Clark (NBC, 1981-1982) sitcom that was however short-lived.
Acting and showbiz were becoming less and less productive for the 74-year-old poker player and this led him to shy away from the limelight. He had to make ends meet and that wouldn't happen by him sitting and feeling sorry for himself. So, he decided to focus on ventures outside Hollywood which involved financial investments and poker tournaments. This impacted Gabe Kaplan net worth.
Gabe Kaplan Relationships and Marriages
Most people value privacy in their lives and make sure not to expose more than necessary to the public. It is usually one's choice to decide whether to keep their lives private or out in the open. However, some people are always in the spotlight with a full fan base and followers who want to know what is happening in their lives. The main information that they may want to know is about the family background, love and relationships, success and achievements and also failures.
Everyone relates to something or someone whether you are a celebrity or not. However, Gabe Kaplan is a 74-year old who doesn't disclose his personal life and especially his relationships. As of now, there is no information about whether he is married or not. Though, Gabe has a daughter who goes by the name Rachel Kaplan. She is 29 years old. Kaplan has never disclosed the name of his daughter's mother and he intends to keep it that way.
Regarding dating, Gabe Kaplan has also never had a relationship that was in the spotlight. He was, however, associated with Marcia Strassman, who is now late. The late Strassman acted as his on-screen wife in the Welcome Back, Kotter sitcom. This aired from 1970-1979. After the show, there is no word about them becoming an off-screen couple. That is just how private Kaplan has kept his personal life. He is extremely secretive about giving out his personal details and those of his spouses. No one knows if he has ever been married throughout all his life history. Even on the internet, there is no history of him dating anyone from the acting and entertainment community. The only details we have so far are Gabe Kaplan net worth and his professional poker life.
Has he ever gotten married? Who is the mother of his daughter, Rachel? All these questions lack answers on the internet. A man of his stature and immense popularity in the industry must have been involved with plenty of people romantically, unless, of course, he is a saint. His daughter, Rachel was born in 1990 and Gabe did not use a surrogate or adopt her. So, it is clear that he was in some sought of relationship with an unknown woman. Kaplan has made it his business to hide all the information about his married life and all that's left are mere speculations.
Sometimes in 2013, Gabe Kaplan was seen on twitter talking and showing interest in gay marriages. Also, in 2015, he was glad that the Supreme Court had said yes to gay marriages. From the statements, you can tell that he is either gay and doesn't want the world in on it. Unless he comes clean about his relationship, there is no way we can clear up these rumors. And what's more, the fact that he has a daughter makes it quite difficult to tell whether he is gay or not.
Gabe Kaplan Poker Career
After the light in the acting world started dimming up, Gabe Kaplan started involving himself in financial investments as well as poker games. All these happened just before he was done with his acting career. Gabe's first appearance at the World Series of Poker was in 1978. It was until 1980 when he was considered the best and top poker player because he won the main event at Amarillo Slim's Super Bowl of Poker. This got him an enormous cup that was more valuable than the bracelets that other poker players got at the time. It made him look quite big in the poker world and gained a high reputation.
In 1983 during the 14th Annual World Series of Poker, Kaplan, who participated in the $10,000 no-Limit 2-7 Draw Lowball event placed third and won $31,500. It took him close to three years and participated in the 5th event of the $5,000 No-limit 2-7 Draw Lowball and finished 8th earning 10,650. Seven days later in 1986 May 21st, Gabe took part in the $10,000 buy-in No-Limit Hold'em Main Event for the World Championship. He was the 21st and won $10,000. Kaplan in 1988 may the 8th, took part in the $5,000 Limit Seven Card stud and placed 3rd, earning $39,500. He placed 8th in the 11th event of the $1,000 Limit Razz and won $3,840. Close to a year later, he took home winnings of $23,100 in the $5,000 Limit Seven Card Stud when he placed fifth.
Five years after receiving his victory in 1985, Kaplan's reputation grew with a great margin and had since solidified. This was when he was making his final table at the Super Bowl's main event twice. Kaplan continued playing poker and earning big but in July 2004, he ended up third in a World Poker Tour No-Limit Texas Hold'em event. This victory got him earning a sum of more than $250,000. This had greatly and positively increased Gabe Kaplan net worth. In 2005, Gabe took the second position in the World Series of Poker $5,000 limit Hold'em event. That was barely a year after his previous great victory. This particular victory earned him $222,515. Apart from his acting career and TV commentating in 1997 and 2002, these earnings gave Gabe too much confidence and that he could do much more.
During the 2007 NBC's Poker After Dark, Gabe Kaplan emerged the top in the episode "Queens and Kings". This was after beating Kristy Gazes head-ups and enduring the likes of Howard Lederer, Vanessa Rousso, Ali Nejad, and Annie Duke. These were tough opponents in the $20,000 buy-in 6-person No-Limit Texas Hold'em winner-take-all sit-and-go. He was so excited, and this led to him leaving everything else on the side to focus on professional poker. I mean, after defeating the poker gurus on the table, who else won't be that excited and see that he could do anything? This win positively impacted Gabe Kaplan net worth.
It wasn't long after Gabe took part in the 2007 World Series of Poker. This was during the $50,000 World Championship HORSE Event. Kaplan took the 9th position which earned him a whopping $131,424. As you can see, Gabe Kaplan net worth kept rising. In June 2017, Gabe Kaplan's total live earnings were sitting at $1,991,248. $539,159 of the winnings were his 11 cashes at the World Series of Poker.
Kaplan didn't rest during that time. He also participated in the Poker After Dark for the duration of the 'Cowboys' week. This episode was aired for the first time in 2008, February. He was against Chris Ferguson, Chau Giang, Andy Bloch, Hoyt Corkins, and Doyle Brunson. Gabe Kaplan stayed low-key until he made a massive comeback in 2010. This was in the Poker After Dark that was aired in the first week of the season in 2010. It was in the Commentators III episode and marked the greatest comeback of all time in the show's history.
Take a look at Gabe Kaplan's history in the Annual World Series of Poker events on the table below. This is up to 2007.
| | | | | | |
| --- | --- | --- | --- | --- | --- |
| Rank | Date | Event # | Event | Position | Earnings ($) |
| 1. | 21/05/1983 | 16 | $10,000 No-Limit 2-7 Draw Lowball | 3rd | $31,500 |
| 2. | 14/05/1986 | 5 | $5,000 No-Limit 2-7 Draw Lowball (Rebuy) | 8th | $10,650 |
| 3. | 21/05/1986 | 13 | $10,000 No-Limit Hold'em Main Event-World Championship | 21st | $10,000 |
| 4. | 08/05/1988 | 4 | $5,000 Limit Seven Card Stud | 3rd | $39,500 |
| 5. | 15/05/1988 | 11 | $1,000 Limit Razz | 8th | $3,840 |
| 6. | 01/01/1989 | 5 | $5,000 Limit Seven Card Stud | 5th | $23,100 |
| 7. | 13/05/1991 | 18 | $10,000 No-Limit Hold'em Main Event- World Championship | 13th | $11,500 |
| 8. | 02/05/1996 | 12 | $5,000 Limit Hold'em | 3rd | $48,750 |
| 9. | 11/05/2002 | 24 | $5,000 Limit Hold'em | 12th | $6,380 |
| 10. | 27/06/2005 | 28 | $5,000 limit Hold'em | 2nd | $222,515 |
| 11. | 24/06/2007 | 39 | $50,000 H.O.R.S.E Championship | 9th | $131,424 |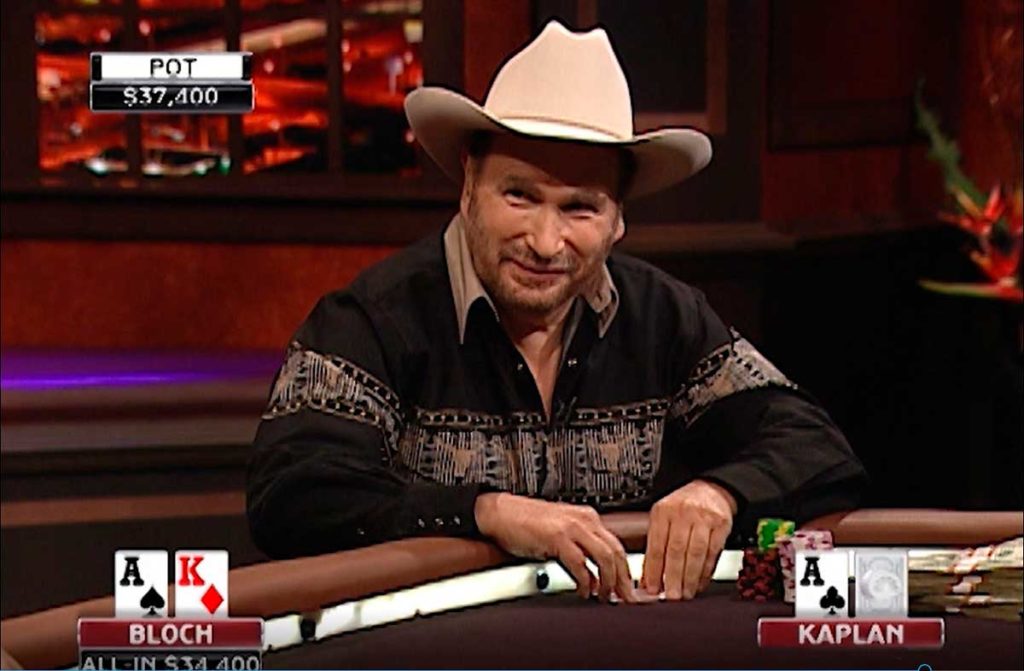 Gabe Kaplan side activities
Gabe Kaplan is a man of many professions and doesn't just depend on one hustle. So, if he wasn't playing poker, he would resume his stand-up comedy work and also worked on films similar to Welcome Back, Kotter. Kaplan plays poker quite frequently to date but low-key. In most poker events as well as televised shows displaying poker, Kaplan gladly doubled as a commentator. This was in shows and events like National Heads-Up Poker Championship on NBC, GSN's High Stakes Poker and on CBC in the Intercontinental Poker Championship.
Gabe Kaplan's name was mentioned in the 21st episode called The PTA Disbands as a substitute teacher in Bart's class. This was in the sixth season of The Simpsons. He made an appearance in Zak Penn's comedy, The Grand in 2007. He played the role of Seth Schwartzman who was the father of brother-and-sister poker players. In the same year, Kaplan also published the Kotter's Back: Emails from a Faded Celebrity to a Bewildered World book. This book brought about many reactions from the readers and others made pretty absurd claims. Some of these claims include him sleeping with more women compared to Wilt Chamberlain, being an expert at Cossack dancing, thinking he is smart to join Mensa and more. These engagements played a huge role in increasing Gabe Kaplan net worth.
Gabe Kaplan's Filmography
Kaplan, apart from being a professional poker player started as a comedian, then an actor and tried his luck with poker. He ended up receiving great popularity in both worlds and ever since then, he is known to be a man of many professions. In Film, he started with the Welcome Back, Kotter sitcom and played the role of Gabe Kotter from 1975 to 1979. He appeared in all the 95 episodes playing as the main character.
In 1976, Gabe acted in the TV movie The Love Boat and held the Stan Nichols' role. The next year he appeared in the Police Story TV series as Paul Cazenovia in the episode called "One of Our Cops is Crazy". He was in Fast Break as David Greene in 1979 and 1981 Nobody's Perfekt as Dibley. Also in 1981, he was in Tulips as Leland Irving and from 1981-1982 he played the main role for thirteen episodes in Lewis & Clark as Stewart Lewis.
Kaplan also starred in the TV movie Groucho as Groucho Marx in 1982. He rested for two years and appeared in 1984's Murder, She Wrote TV series in the episode Birds of a feather as Freddy York. He played the role of Anthony DePalma in the TV movie The Hoboken Chicken Emergency in 1984. In 2001 he played Richie in Jack the Dog and 2007 as Seth Schwartzman in 2007. He stayed for more than a decade and came back in 2018 in the BoJack Horseman TV series as Abe Ziegler in the episode; 'Head in the Clouds". These acting careers also had a great contribution to Gabe Kaplan net worth.
Gabe Kaplan's Lawsuit
There is no success without certain challenges, and this is also seen and experienced with most professional poker players. In 2011, there was a lawsuit against Gabe Kaplan over his winnings. Most celebrities have earlier been sued for ostensibly winning stolen cash from investors in a Ponzi scheme. Among them is Tobey Maguire. Bradley Ruderman, the former hedge fund manager was reported to lose $5.2 million money that belonged to the investors. He lost it in a weekly poker game and the investors gave him a hard time when it was time to give back their money.
The Welcome Back, Kotter star, Gabe Kaplan was brought upon a lawsuit that stated that he won illegally. There were celebrities like Matt Damon Leonardo DiCaprio and even Ben Affleck who were purported to be players in the game but have received no lawsuit against them. Gabe in his own words said that he was being sued mainly because he had won. He said that the suit was involving the people who were playing in the games that the man running the hedge fund played in and won. The money turned out to belong to a Ponzi scheme.
In California, private poker games are permissible as long as they aren't "controlled". When operating the game, no one is allowed to make money off it. The lawsuit assumed that the games were illegal and that the perpetrators had no right to hold Ruderman's money which was allegedly stolen. Ruderman, by then was serving a 10-year sentence in prison following his actions. The people who participated in the game were considered excellent poker players. There were no ball caps, cigars and no one was drinking during the game as it was a serious game. Ruderman, on the other hand, wasn't a so-good poker player but he had his ways at the table. He showed that he didn't care about the money which duped several people in the poker game to invest with him.
When a bankruptcy trustee filed the lawsuit against the then 66-year-old poker player, Kaplan, he said that would give back $27,900 in the settlement. He was purported to have won approximately $62,000 in the games. He was avoiding trial. This slightly reduced Gabe Kaplan net worth but not with a big percentage.
Final words about Gabe
Gabe Kaplan is the first celebrity poker player from Las Vegas and is popular for his sitcom, Welcome Back Kotter. He was born on 31st March 1945 in Brooklyn, New York, US. As of 2019, he is 74 years old and has a 29-year old daughter called Rachel Kaplan. The poker player decided to keep his personal life extremely private that there is no mention of his wife or even the mother of his daughter, Rachel. Gabe has appeared and starred in various movies and TV series. He also did or still does stand-up comedy -which was his first turn around. He lives in Los Angeles, California, US.
Gabe Kaplan was the only celebrity during the poker tournaments. This was when poker had a bad national implication that most celebrities didn't want any association with such. Even appearing on television as pro poker players was a big deal then. This was in the late 1970s. He focused on so many professions and gave equal attention to each. He was a stand-up comedian, an actor, a professional poker player and also a writer. All these have greatly contributed to Gabe Kaplan net worth which sits at $50 million.