Cate Hall Net Worth: Her Life, Poker Career, Winnings and Losses, and Personal Life
Cate Hall has made wave in the world of poker and her life and poker career is worth reviewing. Who is Cate Hall? What is the current Cate Hall net worth? How has she performed in the industry since she stepped into the circle of professional poker players? Has she made any major wins since coming to limelight? These and many questions are the focus of this blog.
The years of the poker boom brought out the best for many poker players. Unfortunately, it became practically impossible for new poker pro to come to limelight in the years after the end of the boom. As a matter of fact, new entrants into the market are finding it so hard to break into the seemingly tight circle of the superstars in the industry. The names of players at almost the final tables are familiar. You can easily predict the names of players you will find at tables at any particular time. No doubt, the high stakes stars have continued to dominate while the middle level poker pros have continued to strive to break through the cycle.
Cate Hall happens to be one of the very few poker players that have gone from a total stranger to the circuit to compete at some of the highest level games. This has not happened in a very long time. Hall walked into the world of poker in the year 2015 at her first live tournament cash game event in the July of 2015. Within a year of her stepping into the poker world, she has cashed at twelve different events. In addition to this, she has made it to three World Poker Tour main event final tables. Not only that, she almost won the Player of the Year award at that particular tour.
Somewhere along the way, she also called attention to a variety of ways that the world of poker can greatly improve. This is most especially in relation to creating a welcoming environment for professional female poker players. She has instigated some exceptional conversations around gender issues as they relate to the poker community. Let us take a walk through the journey of Cate Hall net worth growth and into the world of poker. We will also look at how she became one of the top rising stars of poker within the short year she has stepped into the community.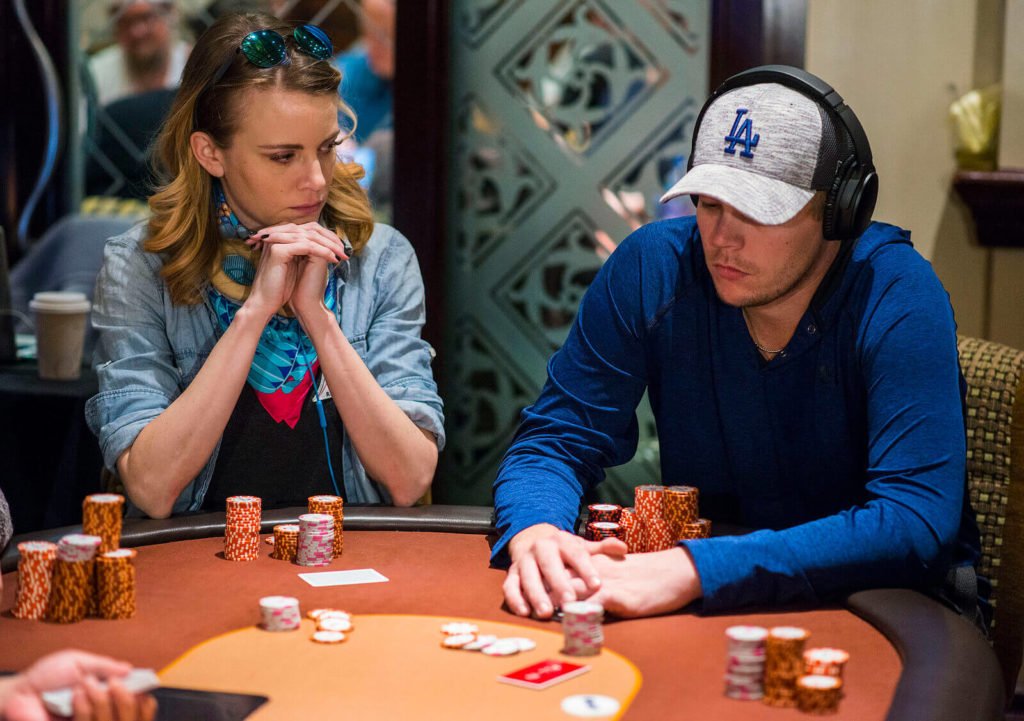 Early Life of Cate Hall
Cate Hall was born on the 19th of September, 1983 in Tucson, Arizona. She had her early childhood in Arizona and has her undergraduate studies at her place of birth. Just like many other poker pros in the industry, Hall developed an interest in the games that require strategic thoughts from an early age. According to her, she has always been interested in various competitive games to a large extent. She went further to reveal that she didn't have so much experience at playing cards at a younger age. However, she learnt how to play the game from her grandmother at the age of seven thereabout. For her, the game of cards has always been quite attractive for her because she loves mental competition.
While in elementary school, she was always playing the game of chess. She played chess all through high school and even when she got to college. However, she got really involved in gaming when she settled in college. She began to heavily play online role-play game, World of Warcraft, and she played this game for about a year while she was studying for her undergraduate degrees. By the way, Hall studied Biochemistry and Philosophy while in school.
While talking about herself, she revealed that she has always had phases of interest all through her growing up years. As a matter of fact, her interests change year in year out. For instance, when she started at college, she had the hope of becoming a research scientist and work in a laboratory as a research assistant after her graduation. She had the interest to work on biochemistry and molecular chemistry. However, by the time she got to her senior year, her interest had changed. According to her, she was bored about the whole chemistry stuffs. At this point, she couldn't see herself being happy working in a lab all her life.
At the end of the day, she opted for a dual degree program in school. Therefore, she graduated from college with a second degree in philosophy. She had the intention to go to law school and she did. As it is with her interest, it wasn't a surprise to learn than her interest didn't last so long in this new career choice. After she graduated from college, she began to work as a clerk in a firm in New York. She worked at the firm for a period of two years before moving to Washington D.C. When she got to her new resident, she began working for an appellate boutique firm and she worked there for a period of four years.
The firm focused on cases that have to do with Supreme Court and Court of Appeal. Over the years, the stress and high demand of the legal profession started taking its toll on Cate Hall. This led her to the next phase of her interest, which is professional poker gaming.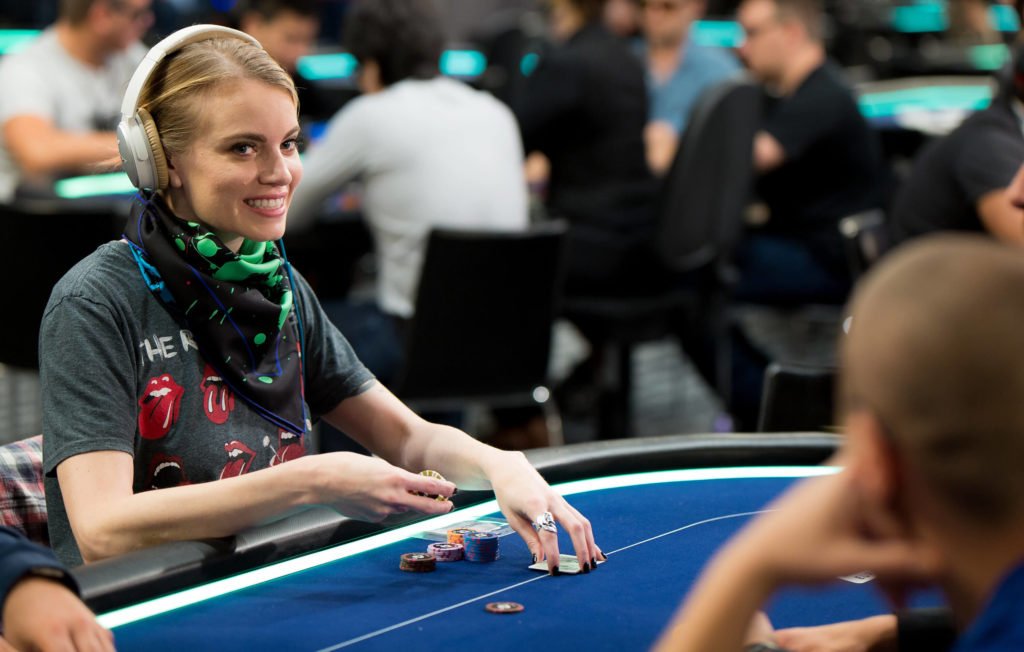 Cate Hall Interest in Poker Ignited
While in college, Hall played at a couple of poker home games. This was around the poker boom period. At this time, almost everyone was playing the game around her so it was kind of fun playing the games with people she knew. However, while in law school she reduced her involvement in poker games even though her school was not very far away from Foxwoods Resort Casino. Well, it is understandable why she couldn't play so much in law school. She had a degree to study for and poker would surely be distraction at this period.
Sometimes in 2014, she began to take weekend trips to one of the casinos in Charles Town, West Virginia. She started to try her hands-on poker but at this time, she was playing the game as a hobby not as a career. Not long, Maryland Live! launched its poker room and Hall began to spend more time at tables, playing low stakes No Limit cash games.
For her, the motivation to pursue poker at this period has nothing to do with the poker game itself. Rather, she was playing at tables to let off steam because she wasn't happy working as a lawyer. She decided to do something different; something that will bring happiness to her. Poker was therefore an outlet for freedom from the stress and boredom associated with the legal profession.
When she started taking the game serious, she discovered that she was doing pretty well. As a matter of fact, she noticed that she could finance the kind of lifestyle she wanted to live just within a couple of years of playing poker. When she noticed the income that she was making from poker, she began to think seriously about what next to do with her life and her career. At this point, the foundation of Cate Hall net worth was being laid and the outcome of her decision to move to poker turned things around for her.
Interestingly, Hall believed that she would have been able to make a lot more money as a lawyer than a poker player. She went further to say that even if she were to win the main event of any tournament; she still will not make as much money from the game as she would have as a lawyer. In other words, she is sacrificing so much money by not practicing her legal profession. According to Hall, she is not in poker because she thinks it would be more profitable than her legal profession. It was simply because poker is something she enjoyed and it would be a great idea to spend her time engaging in something she likes doing for a couple of years.
One thing that Hall said she has enjoyed so far in the world of poker is the freedom that is associated with being a professional poker player. It is totally a world apart from her job as a lawyer where she basically had to work continuous on a rigid schedule. And then, she has to be accountable to another person at every minute of her day at work.
She admitted that the idea of independence that is inherent in the career of poker players is one of the major things that attracted her to the game. It is something she had craved for since her time at college. Therefore, when the opportunity to become independent presented itself to her, she didn't think about it twice before she jumped on the poker wheel. For Cate Hall, poker is not just a career she is into to pay her bills. It is more of a passion and interest in the game, especially because of its complexity. She believes that the better you become at the game, the more you discover that there is so much you still need to learn.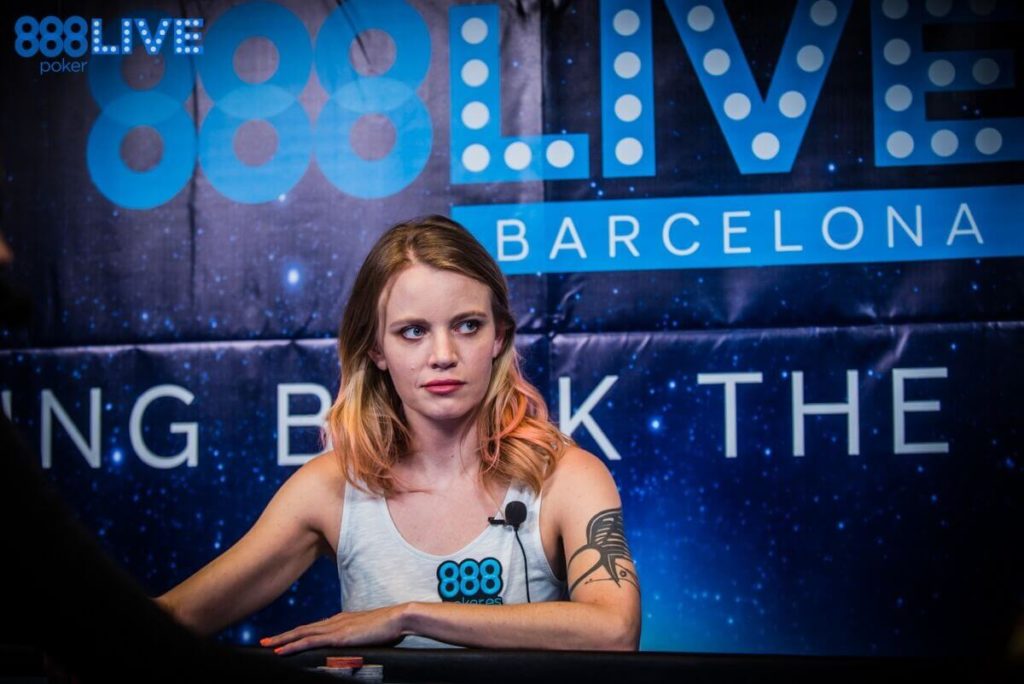 Cate Hall at World Poker Tour
Not long after she made her exit from her law firm in the year 2015, Cate got her first experience at the World Series of Poker (WSOP). This was a sort of pilgrimage for her at this point in time. Her initial plan was to mainly go all out for cash games in Las Vegas at the series. However, she got drawn into the tournament itself.
She participated in the $777 No Limit Hold'em Buy-in event and got her highest score at the 2015 summer. She finished in the 33rd place out of the field of other 4,422 professional poker players. She felt everything was so surreal at this moment, especially the feel of going into the day three of the big event.
She also made her first major final table at the $3,500 World Poker Tour Maryland Live! event. At this event, she finished in the fifth place and made her winning. From this stage, Cate Hall net worth has began to take shape and her bankroll also started getting better. A couple of weeks after her experience at the WPT Maryland Live!, she participated at the World Poker Tour event at Montreal and made some cool winnings.
She also participated in the World Poker Tour Five Diamond World Poker Classic. This event took place at Bellagio. The tournament was Cate's second $10,000 Buy-in event after she played at the World Series of Poker main event in the year 2015. According to her, she had only gone to Vegas to play at cash game but on a second thought, she decided to take a shot at the tournament and she took part in the event.
While at the event, she felt awed by the great players she met with on a daily basis. For her it was a big deal going through the tournament and making it to the final table. These series of events and winnings have all contributed to Cate Hall net worth. Even though she has not won any bracelet or title yet, she has done herself and the female gender proud at the felt table.
Hall made it to another cash game at the World Poker Tour Bogota Winter Poker Open main event. At this point she overtook the lead at the World Poker Tour Player of the Year race. She was on a 5-to-5 in terms of cashing at the World Poker Tour event that season.
She also participated at the Los Angeles Poker Classic and Fallsview Poker Classic festivals. She didn't cash at any of these events and this was the first time she tasted defeat to a large extent. She had a first-hand experience of what it means to spend so much money on tournament buy-ins without having any return on her investment. At this time, Cate decided to take off some time to think over her career as a poker player.
Even though she felt raw frustration at the various experiences, she didn't give up on her passion for poker. She took another trip to the World Poker Tour ultimate series in the state of Florida. While talking about the experience, she said she realized that she might not have another better shot at winning something close to the World Poker Tour Player of Year. So in order to increase her chances and try her luck again, she travelled down to Florida to participate in the Seminole Hard Rock Poker Showdown event.
At this event, she cashed at both the$10,000 Seminole Hard Rock Poker Finale event and the $3,500 main event buy-in. She busted at the $10,000 event and made it back to the final table of the very first event. This event was delayed for a day and later resumed as a short stack between ten different players. All these players have the chance to surpass the lead. All they needed to do is finish in the top three. Hall was prepared to win the Player of Year event but unfortunately, she didn't make it to the top three. Still, she felt the experience was absolutely surreal and very exciting.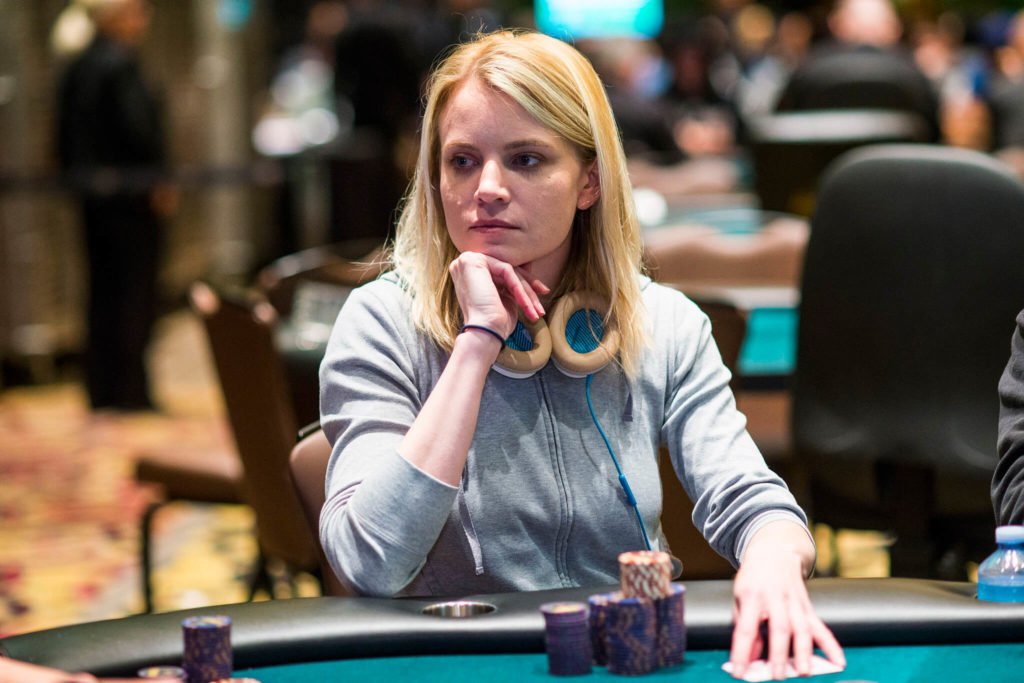 Cate Hall and her Highlights of Gender Issues in Poker
Since her debut into the world of poker a few years back, Hall has made her way into the spotlight. Now, here presence in the spotlight is not what distinguishes her as an exceptional female poker player. Her strategic actions while the world of poker was watching have been quite significant. When she made her first World Poker Tour final table in 2015, she categorically informed the organizer of the event that she would not be taking the conventional final table promo pictures with the spokesmodel/ambassadors of the tour, the Royal Flush Girls. Cate took to her Twitter page during the event to write that there is nothing that indicates that poker is a man's game like the inclusion of the Royal Flush Girls.
After taking this decision, she became quite vocal about her discussions on gender issues in the world of poker. As a matter of fact, she became a focal point and a point of reference when people talk about gender inequalities in poker community. Hall has consistently opined that the general poker community is quite retrogressive when it comes to gender issues. According to her, it is quite difficult for individuals in the community to really see what is going on because they are so used to the problem. She went further to reveal that whenever she brings things that she is not comfortable with at the table, the only explanation she gets is that this is the way things are.
Cate has tried her best to interact and express her point of view to people who don't agree with her. However, she is not ready to be the focal point for the discussion topics around gender issues. Before she got into the poker community, she had not thought so much about the issue of gender inequalities. This is because she had not experience any level of sexism in her life and coming to experience it at poker table really gave her a serious concern.
The fact that she had spent a greater part of her life in historically men-dominated fields didn't prepare her for her encounter at the poker table. She has worked in the field of research, and also worked in mathematics and science. To top it off, she got an employment at a law firm where about 95% is male. At some point in her career, she also ran an all-male editorial unit at a newspaper, and even at that, she didn't experience the level of sexism that is present in poker community.
She has been in male dominated environments all her life and can confidently say that the world of poker is drastically different from all the other. The core disparity between it and the others is the unwelcoming feel that the community exudes towards the female gender. It was almost like it is an unwritten rule that poker is not for the female gender. She believed that coming from the outside world into the world of poker, she owes it to the community, the women in the field, and many that are still coming, to speak up on the issue.
Interestingly, she has somehow become the spokesperson for gender issues in the world of poker after pointing it out at a couple of events. For Cate, it is really a weird situation to be in. She is of the opinion that gender issues are not part of the subject of interest to her. And neither does she knows a lot of things about it. All she did was to point out some things she felt were not right and since then, people have began to contact her about her opinions on a number of gender related issues.
She admitted that making poker community a more welcoming platform for women is a very difficult problem and there is no single solution to it. However, she believes that the best place to start is in reviewing the way the game is marketed and advertised. With a shift in campaign strategy, there would be less exclusivity that is focused on one gender more than the other. This could make a big difference in the way prospective female professional poker players see the game.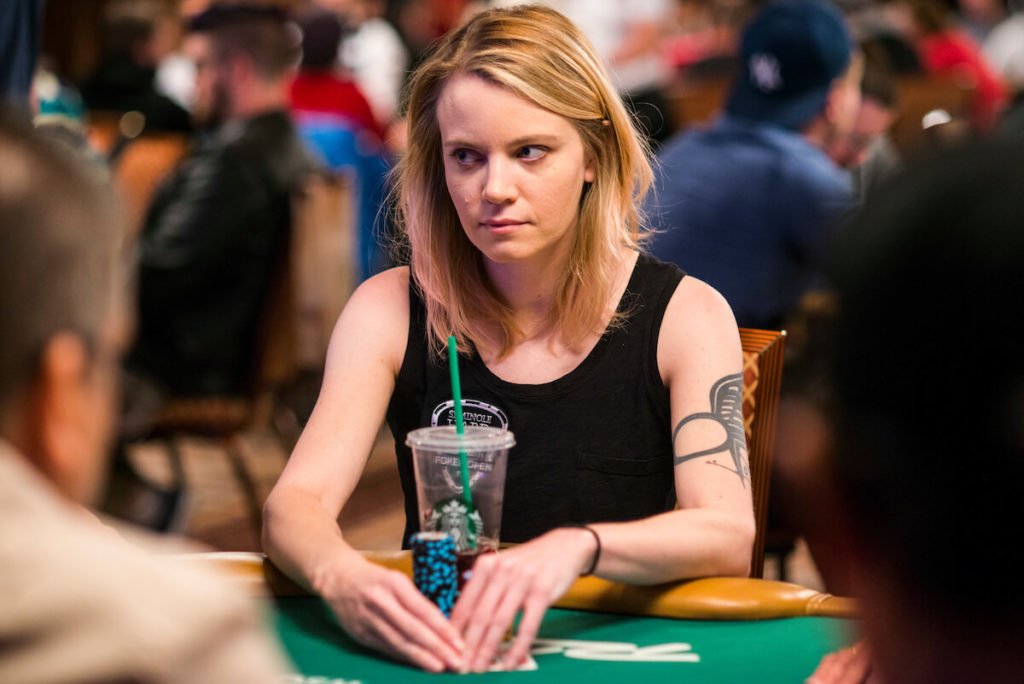 Cate Hall and Her Retirement Plan
In May of 2018, Cate Hall took to her Twitter page to inform her followers that she may be leaving the world of poker very soon and move to something else. She revealed that she had taken a break from poker recently and just returned. And upon her arrival at the grind, she realized that she wasn't feeling the same satisfaction and exhilaration that poker brought when she first stepped in. In her tweet, she said "After a long time away and a short time back, I'm finding it very easy to see how bad poker is for my brain. I guess I should be grateful for the clarity but it still makes me sad to know it's coming to an end".
Interestingly, many of her followers didn't feel overly surprised at her retirement announcement. This is because two years earlier; she already informed CardPlayer that poker is not something she planned to engage in for a long time. She said she would probably be in the industry for a year or two more before she moves on.
While talking to CardPlayer, she revealed that she is looking forward to doing something new. According to her, her next step will determine her participation in poker in the years to come. According to her, she might take up a job with an effective altruist organization. Another option for her is to work with an NGO that is centered on rationality. She went further to reveal that she might actually return to graduate school to further study on any of these fields.
Well, it seems she has made good her promise of retirement. According to her profile on thehendonmob.com, her last appearance at the table was in June of 2018. She played at the $2,620 No Limit Hold'em – The Marathon Event #27. This event was during the 49th edition of the World Series of Poker in Las Vegas. She finished in the 8th place and made a winning of $65,875. This winning was the last addition to Cate Hall net worth as recorded on her profile at the site.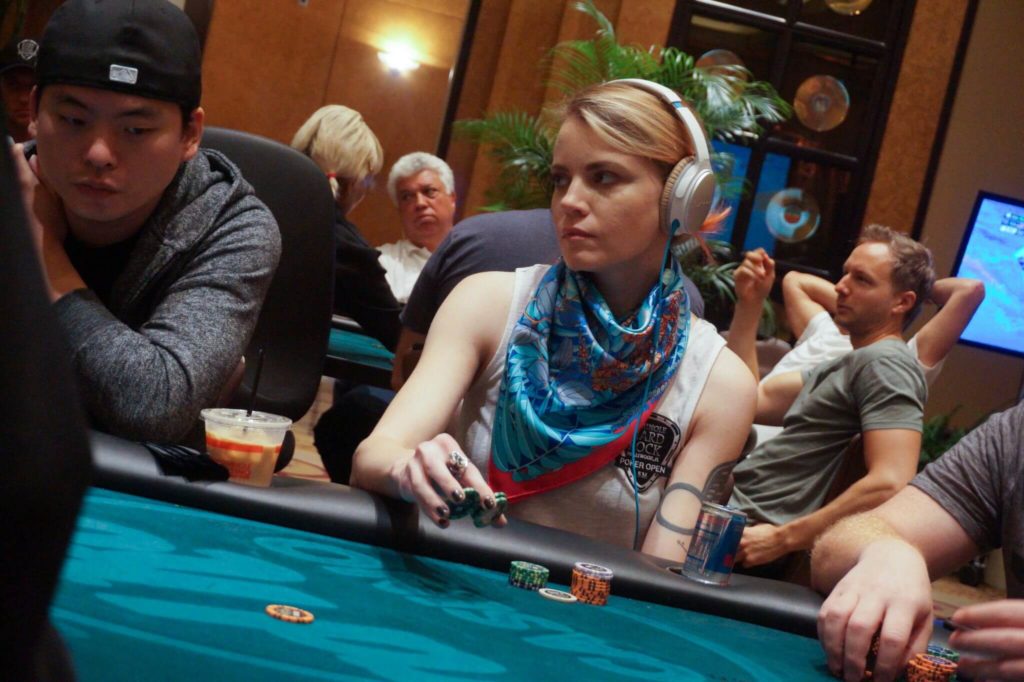 Cate Hall Net Worth
Cate Hall net worth in total live earnings is estimated to be around $1,086,412. Her best live cash since she stepped into the world of poker is $291,320 USD. Although she has not made so much like many other poker players in the industry but she has made a name for herself in the industry. She occupies the 19th position in Arizona, USA All Time Money List and 172nd place on popularity ranking. Suffice to mention that Hall has not earned any bracelet or title at the World Series of Poker and World Poker Tour respectively.
Conclusion
In spite of her popularity at poker tables, Hall seems to be a private person. There is practically nothing about her personal life and relationship on the internet, which means we don't really know if she is in any relationship or not. Many have labeled her a lesbian on Twitter and she has never bothered to respond to such remark. In November of 2018, Cate Hall deleted her Twitter account and a lot of speculations came up at this time.
Whether on Twitter or not, Cate has left her footprint in the sand of time as far as the poker world is concerned. She has performed exceptionally at some events and has made some great winnings too. No doubt, Cate Hall net worth has majorly come from her earnings from poker and she will always be grateful for the experience.